BBC Sport - Super Cup NI: Chivas Guadalajara beat Dundalk to reach Junior semi-finals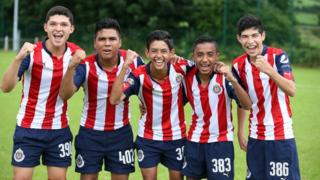 Chivas Guadalajara into Junior semi-finals
Mexican club Chivas Guadalajara progress to the Junior semi-final at Super Cup NI as they earn a 4-0 victory over the Dundalk Schoolboys League.
Jose Plascencia put the Mexicans ahead with a shot which deceived Dundalk keeper Paul O'Grady.
Zahid Munoz doubled Guadalajara's lead after the interval and the same player notched the third goal from the penalty spot after Sebastian Martinez had been fouled by Conor Watters.
The fourth goal came after a Martinez shot came back off the post and rebounded into the net off Dundalk defender Adam Fee.
Chivas Guadalajara will face defending champions, Ghanaian side, Right to Dream in the semi-finals with County Londonderry taking on Sheffield United in the other last-four tie.
Cian McGarvey's goal secured County Londonderry a 1-0 win over American side First Choice Soccer on Wednesday to earn the Derry team a first ever semi-final in the junior competition.