Gary Lineker: Match of the Day presenter 'plucking up courage' for pants
Last updated on .From the section Football
Will Gary Lineker keep his promise and present Match of the Day in his underpants when the show returns to BBC One on Saturday evening?
The new Premier League season starts this weekend and former England captain Lineker is rueing a rash tweet from back in December.
He had so little faith in Leicester - his former team, who he scored 95 goals for in 194 appearances - holding on to their lead in the Premier League that he pledged to "do the first MOTD of next season in just my undies" if they won the championship.
The Foxes went on to win their first top-flight title by 10 points.

So, will he go ahead with it live on BBC One at 22:30 BST?
"I am doing my best to pluck up the courage to go there with just my undies on, as I said I would," Lineker told BBC Sport.
"When I tweeted that silly bet back in December, I categorically knew there was zero chance of Leicester winning the league. Zero chance. It happened but it was magical, it was great.
"It is a one off and a sporting miracle that has landed me in my underwear."
Judging by this Instagram post, it hasn't escaped Lineker's mind...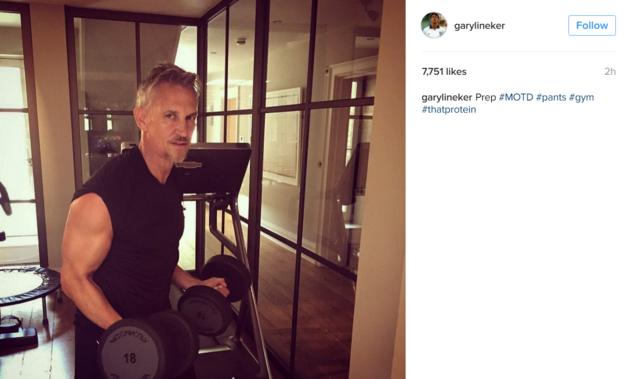 Even Leicester manager Claudio Ranieri is keen to see what happens.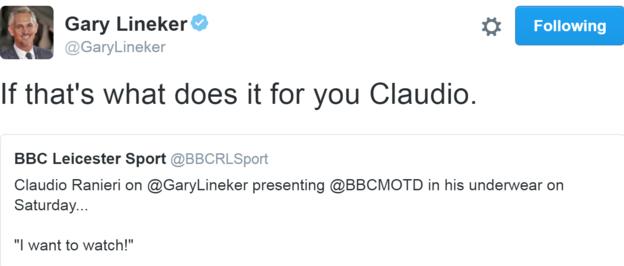 There have been messages of support - or concern - from fellow ex-professionals. We expect Ian Wright and Alan Shearer will have some words of encouragement in the studio.

But the man himself is keeping his cards close to his chest - for now.

And just in case you miss it, don't worry. There will be a second chance.
This season you will be able to watch Match of the Day on the BBC iPlayer from midnight on Sunday - and Match of the Day 2 from midnight on Monday.