Truro City: Andrew Neal hailed by manager after 2-0 Concord Rangers victory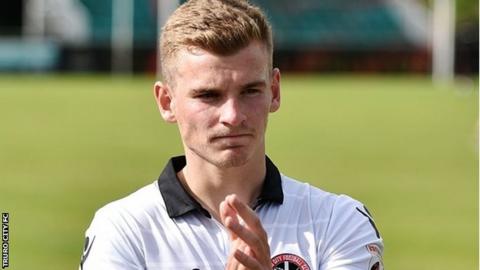 Truro City manager Lee Hodges has praised striker Andrew Neal after he scored on his full debut to help the club to their first win of the season.
Neal struck after 33 minutes as the White Tigers won 2-0 at Concord Rangers, with Arran Pugh getting the second goal five minutes later.
"He's a little bit disappointed that he's not put his name on the scoresheet a couple more times," Hodges said.
"But for a debut he's got to be very happy with himself.
"He's all about moving his feet and getting that shot off and it was something that you see in training and you hope he can produce in the match and he has done, it's that little bit of quality that gets us that first goal," Hodges added to BBC Radio Cornwall.
And Hodges feels that his new-look side are starting to improve, after failing to win either of their first two games in National League South.
"After Tuesday and not putting in the performance we were looking for you're hoping for a response and I thought the boys were outstanding and thoroughly deserved the win," he said.
"Hopefully they've learnt their lesson that when you're dominating teams that it's important to get that first goal.
"They had one breakaway when they could have scored but I thought we looked very solid all over the park and it's a shame we didn't finish with more goals."