Paul Tisdale: Exeter City must weather injury crisis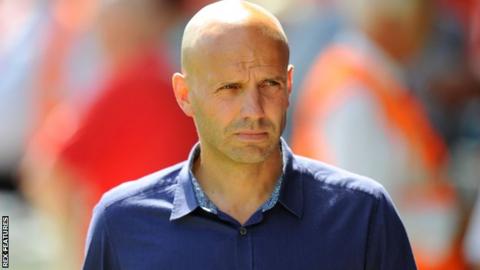 Exeter City must try to cope with the loss of several first-team players to injury, says manager Paul Tisdale.
City were without seven players in Saturday's 2-1 loss to Hartlepool, with Troy Brown, Troy Archibald-Henville, Lee Holmes and Matt Oakley all out.
"It's amazing, we're two weeks into the season and we have seven or eight senior players missing," Tisdale said.
"We've just got to get on with it, there's three or four that are going to be out for more than a week or two."
City were also missing David Wheeler, Lee Grant and Ryan Harley, with 21-year-old goalkeeper Christy Pym their oldest player on the bench.
"What's frustrating is we had a very solid month during pre-season with hardly a change in the team and within two weeks you've got at least four definite starters who are missing," Tisdale told BBC Radio Devon.
"But that's the set-up, it gives young players a chance. Kyle Egan came on and made his debut, we saw Matt Jay on the pitch and Connor Riley-Lowe seemed to be my most experienced outfield player on the bench to bring on.
"There'll be other teams that suffer the same thing so we've got to get on with it."