Joleon Lescott: Aston Villa defender to have Rangers medical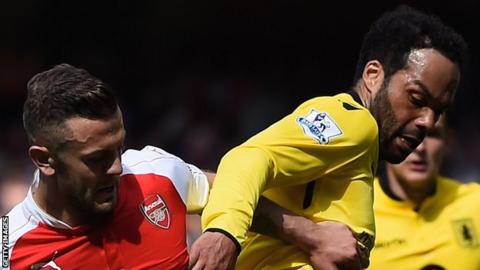 Aston Villa defender Joleon Lescott will have a medical in Glasgow after being offered a two-year contract by Rangers.
The 34-year-old has been told he can leave the English Championship club.
Asked about his chances of signing a player of Lescott's calibre, Rangers manager Mark Warburton said: "I'm optimistic because we have to keep raising the profile of Rangers.
"Hopefully we are very near a conclusion on one or two targets."
Preston North End say striker Joe Garner is free to join Rangers, with a fee of about £1.5m having been agreed for the 28-year-old.
North End manager Simon Grayson has revealed it is now up to the player whether he wishes to move.
The Ibrox club currently also have 31-year-old free agent and former Arsenal defender Philippe Senderos training with them after leaving Grasshoppers.
"Players know about the club, know about the history and stature of the club and hopefully we can keep pushing forward," said Warburton, who travelled south to meet Lescott on Tuesday.
"If we can do that and sign players of the right calibre then it's almost self-fulfilling."
There has been reported interest in Lescott from Sunderland, but Warburton believes Rangers can bridge the financial gap between the Scottish and English top flights by stressing the experience on offer at Ibrox.
"We can't compete with Premier League clubs, absolutely not," he said.
"The financial disparity is evident for all to see, but what we can do is look at what we can offer a player.
"We can offer a player an opportunity here that is maybe not on offer at that club - and maybe those clubs can sign more players to have bigger squads.
"If a player doesn't buy into that, no problem, we shake hands and move on."
Lescott won 26 England caps between 2007 and 2013 and has made more than 600 senior club appearances.
However, following Villa's relegation from the Premier League, the defender has not featured for Roberto di Matteo's Championship side this season.
"We can't compete when it comes down to straight cash, but with players of experience and players of quality, it's not always about a straight cash deal," said Warburton.
"It's very much about the quality of opportunity. If we can get that right then we have a chance."
Garner, who netted six goals for the Championship side last season after hitting 27 in their promotion campaign the previous term, has told Preston he is keen on a move to Rangers.
"A player like that adds experience, adds an edge in terms of how he plays the game, in terms of his enjoyment of the game, a variety of goals, comfortable inside and outside the box, movement and a threat," added Warburton. "He's a constant threat."