Arsene Wenger: Under-fire Arsenal manager not reluctant to spend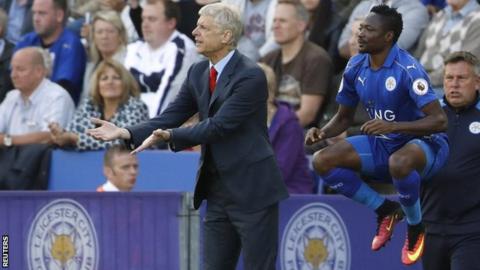 Arsenal manager Arsene Wenger says he is willing to spend big money in the transfer market after coming under fire from supporters during and after the goalless draw at Leicester City.
They are without a win from their first two games - and fans chanted demanding Wenger open the club's chequebook before the transfer deadline.
He said: "If we find the right player we will not be reluctant to spend big.
"If I just bought someone for £45m will I have done well?"
He added: "I do not understand why people say I am reluctant.
"Spending the money itself is not a quality. Spending it to buy the right, top-quality player is the quality."
Wenger has bought midfield man Granit Xhaka from Borussia Moenchengladbach for £35m this summer as well as £2m on 20-year-old Rob Holding, who was excellent against Leicester.
Arsenal are hoping to do a £25m deal for Valencia central defender Shkodran Mustafi before the transfer deadline.
He said: "I will spend £300m if I find the right player, and we have £300m. But we also have 600 employees and we need to have a responsible attitude as well.
"I'm a bit fed up saying the same thing when people say we do not want to spend. We analyse everything then make the right signings."
Wenger added: "Nobody is speaking about the performance of Rob Holding. You should be happy because he's English, 20 years old - but I'm sorry he didn't cost £55m, so he can't be good."