Bradley Reid: Wolves striker returns to Wrexham on loan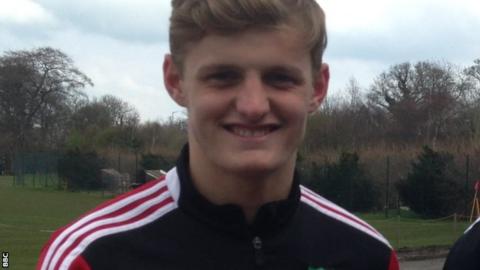 Former Wrexham striker Bradley Reid has rejoined the National League club on a month's loan from Wolverhampton Wanderers.
Reid joined Wolves from Wrexham for an undisclosed fee in September 2013 but has yet to make a first team appearance for the Championship club.
The 20-year-old was on loan at Wrexham at the end of the 2013-14 season and spent a month at Telford last season.
Wrexham have also extended the loan of striker Gerry McDonagh until January.
The 18-year-old Nottingham Forest player joined on a initial one-month loan earlier in August.
Fellow striker Michael Bakare suffered a hamstring injury in Saturday's 0-0 draw at home to Eastleigh while Jordan White remains sidelined with a blood disorder.
Meanwhile coach Mark Creighton has left the club with immediate effect.
The former defender returned to the Racecourse in the summer but has left "to pursue other opportunities."
"I've loved working with both Gary Mills and Darren Caskey, they're great guys who are desperate to do well for Wrexham and see the club back into the Football League," Creighton said.
"It's been a great experience working with them and the players, and I hope I have contributed, even though my most recent spell at the Racecourse has been brief.