Vito Mannone: Sunderland goalkeeper out for three months with elbow injury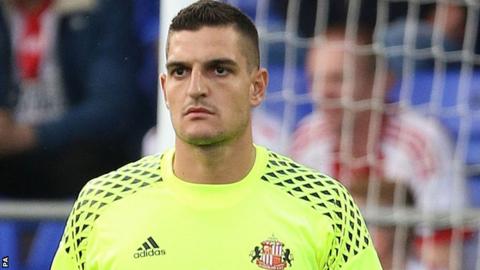 Sunderland goalkeeper Vito Mannone will be out for at least three months and could require an operation after tearing elbow ligaments.
The 28-year-old Italian, who joined the Black Cats from Arsenal in 2013, was injured during a training session.
Manager David Moyes said he would "definitely" look to make a signing as Jordan Pickford, 22, is his only fit senior goalkeeper.
Moyes added the club had made a bid for Sevilla midfielder Vicente Iborra.
The 28-year-old joined Sevilla from Levante in 2013 and is a three-time Europa League winner.
Moyes said Mannone's injury gives Pickford "the chance to show what he can do".
He added: "He has a big future ahead of him."
The England Under-21 international is a product of the Sunderland academy and has played for a host of clubs on loan.
He made his senior debut for the Black Cats in an FA Cup tie at Arsenal last season, before making two Premier League appearances.