Guernsey FC 'awful' in 3-0 South Park loss says boss Tony Vance
Last updated on .From the section Football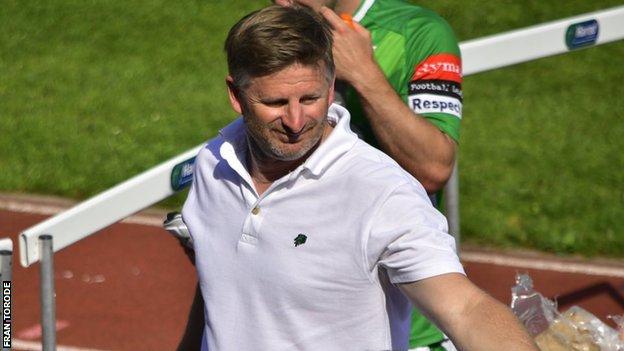 Tony Vance hit out at his winless Guernsey FC side's 'lifeless' display following their 3-0 loss at South Park.
The Green Lions are fourth-from-bottom of Isthmian League Division One South after suffering an 11th successive defeat away from home.
Jerry O'Sullivan gave the home side a 17th minute lead and Asa Rixon-Nicholls scored on right on half-time before Michael Smith's second-half goal.
"We were awful," manager Vance told BBC Radio Guernsey after the game.
"We were poor, lifeless and we weren't going to break anything down.
"You can have any excuse that you like, be it the second game in 48 hours, but that's the same for them and they broke us down.
"We were really poor in that final third, the work ethic was decent off the ball, but we just couldn't break them down because we didn't have a good enough tempo and the execution wasn't intelligent enough or varied enough."