Jamie Reid: Torquay United boss wants to extend stay of on-loan Exeter City striker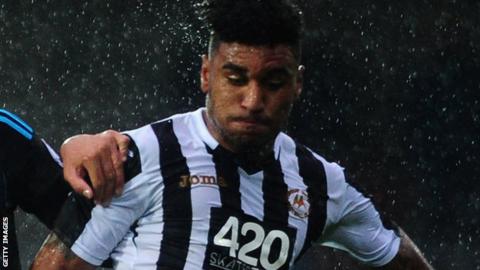 Torquay United manager Kevin Nicholson says he would like to keep on-loan Exeter City forward Jamie Reid at the club for a longer period.
The 22-year-old has agreed a deal to stay at Plainmoor until January.
The former Northern Ireland Under-20 international has made a good impact on the side, scoring in two of his last three matches and playing eight times.
"If he carries on like he's doing, then I'll be doing everything I can to keep him for longer," Nicholson said.
Torquay-born Reid grew up close to Plainmoor and had a loan spell at the club two seasons ago.
"He's bought in completely to what we do, he's taken on board the extra sessions, he's taken on board the strength and conditioning, he's taken on board even the psychology stuff," Nicholson added to BBC Sport.
"He's taking advantage of everything we offer and if you look at his performances over the last two weeks, I think he's been excellent."