Joey Barton: Partick Thistle's Steven Lawless has empathy over betting claim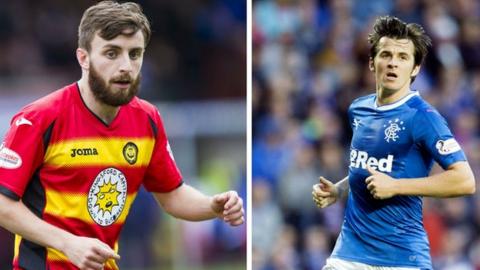 Partick Thistle's Steven Lawless empathises with Rangers midfielder Joey Barton over a potential charge of betting on football.
Barton is being investigated over claims he gambled on Celtic's 7-0 defeat by Barcelona in the Champions League - which the SFA prohibits.
Lawless, found guilty of breaching gambling rules last year, said: "I feel for him, I know the position he's in."
The Partick midfielder said he now plays poker instead of betting.
Lawless was accused of betting on 513 matches between December 2012 and March 2015.
SFA disciplinary rule 33 prohibits players, coaches, club officials and referees in Scotland from betting on football anywhere in the world.
Former England and QPR player Barton is already suspended by Rangers after a training ground disagreement last week.
"He's a big boy and he'll know what he's done," said Lawless. "You just need to take it on the chin when it happens to you.
"I do feel for him, I know the position he's in and I know what he'll be feeling. But he's dealt with big things in his life before I'm sure, it's just one of those things.
"You need to learn by other people's mistakes. Obviously nothing's happened yet and we don't know the full ins and outs, but we'll just need to wait to see if it goes to a hearing."
Lawless feels the rules are too severe, in particular players not being allowed to bet on matches in which they have no involvement.
"I think when I was going through it I said I don't feel the rule is fair, but it's there, so it shouldn't be broken. Any game anywhere is a bit harsh, but that's the rules and you need to abide by them."
The Thistle midfielder revealed to BBC Scotland he has found another social interest, namely poker, to fill the betting void and gambling habit.
"It's something else to get your mind away from it - I play poker. I'm sure he'll have another outlet if he has a problem, although I don't know if he has.
"It's another way to bide your time and get through it."
When asked if he was good at poker, Lawless replied: "I'd like to think so, but the run I'm on at the moment, probably not!"