Sam Allardyce: England manager allegations investigated by FA
Last updated on .From the section Football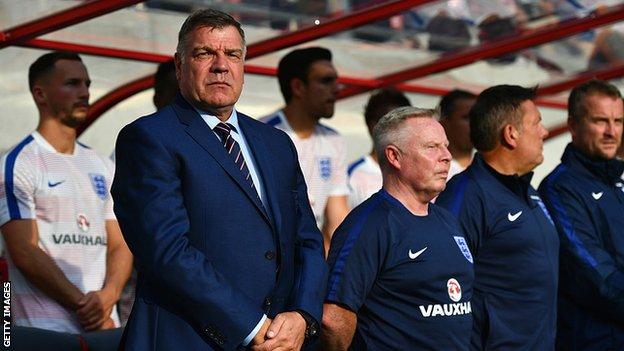 The Football Association is investigating allegations England manager Sam Allardyce used his role to negotiate a £400,000 deal and offer advice on how to "get around" rules on player transfers.
The Telegraph has footage it says is from August of Allardyce meeting men claiming to represent a Far East firm and appearing to tell them that third-party ownership rules can be avoided.
The 61-year-old has yet to respond to the allegations, while the FA has asked to see the paper's filmed recordings.
It was due to meet on Tuesday when new chairman Greg Clarke and chief executive Martin Glenn must decide whether the issue is one of poor judgement or something more serious.
Allardyce was only named England boss in July, succeeding Roy Hodgson after a disastrous European Championship campaign.
The former Sunderland boss has been in charge for just one game.
"I want all the facts, to hear everything from everyone and make a judgement about what to do," Clarke told The Times.
"Natural justice requires us to get to the bottom of the issues before we make any decision. It is not appropriate to pre-judge the issue. With things like this you have to take a deep breath."
Third-party ownership of players was banned by the FA in 2008.
During the meeting with the businessmen, who were undercover reporters, it is alleged Allardyce said it was "not a problem" to bypass the rules and he knew of agents who were "doing it all the time".
It is further alleged by the paper that a deal was struck with the England boss worth £400,000 for him to represent the company to Far East investors and to be a keynote speaker at events.
Allardyce tells the undercover reporters that any arrangement would have to be cleared by the FA.
Third-party ownership, in which investment companies take a stake in the economic rights of players, was described as a form of "slavery" by Michel Platini, the former president of European football's governing body Uefa.
World football's governing body Fifa banned the practice in May last year.
Allardyce attended the meeting with the fictitious businessmen in London along with his agent, Mark Curtis, and his financial adviser, Shane Moloney.
During the meeting he said Enner Valencia had been under a third-party ownership agreement when he signed the Ecuador forward for £12m for West Ham from Mexican club Pachuca in 2014, but that the third-party ownership ended on the transfer and the Hammers acquired the player "whole".
Curtis and Moloney have not yet responded to the allegations.
In the Telegraph recording, Allardyce also refers to predecessor Hodgson, as "Woy", referencing his speech impediment.
He also criticises former assistant coach Gary Neville - saying Hodgson should have told him to "sit down and shut up" - as well as the FA's decision to "stupidly" rebuild Wembley Stadium at a cost of £870m.
Former Blackpool, Notts County, Bolton, Newcastle, Blackburn and West Ham manager Allardyce succeeded Hodgson, who quit after England were knocked out of Euro 2016 in the last 16 by Iceland.
He has had just one game in charge of the national side - a 1-0 win over Slovakia in a 2018 World Cup qualifier earlier this month.
He is due to name his squad on Sunday for the forthcoming World Cup qualifiers, including his first Wembley match in charge against Malta on 8 October (17:00 BST kick-off).
Former England international Chris Waddle told BBC Radio 5 live that Allardyce had been "naive" and was now in a difficult position.
He added: "They are only allegations but if true he will do well to keep his job. Hopefully there's nothing at the end of it and he continues."
It is not the first time allegations have been made against Allardyce following an investigation by journalists. A BBC Panorama programme in 2006 contained claims by an agent who said he had paid bungs to the then-Bolton boss.
Allardyce vehemently denied the claims and a subsequent FA investigation found no evidence of wrongdoing.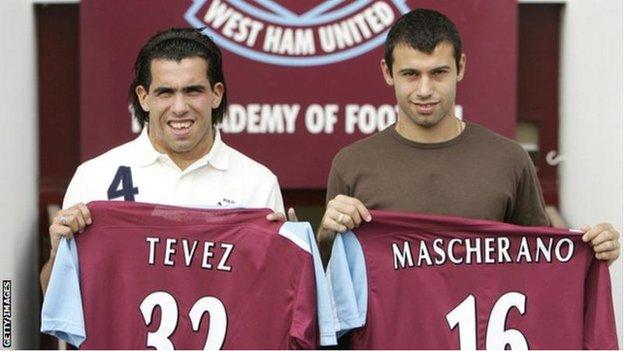 Analysis
Ian Dennis, BBC Radio 5 live senior football reporter
"One aspect to the story - and you don't get it from the headline - is that Allardyce repeatedly said he would have to get it cleared by the FA.
"His exact quote was 'I'll have to run it by the powers that be'. That's in terms of what he was allegedly being offered.
"However, it's still very serious for the FA. It's uncomfortable and it's embarrassing for Allardyce, just two months into a two-year deal as manager.
"I think his future at the moment faces real scrutiny. Some may say his job is under threat. That's what the FA will have to decide.
"Is it a question of poor judgement or something more serious? The next 24 hours are going to be very, very interesting."