Irish Premiership: Crusaders boss unhappy about Whyte ban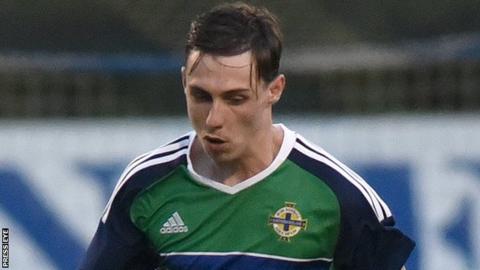 Crusaders boss Stephen Baxter says he is disappointed midfielder Gavin Whyte had a Uefa ban imposed for pulling out of an Under-21 international.
The 20-year-old was barred from playing in Saturday's Premiership match when the leaders suffered their first defeat of the domestic season at Ballymena.
Whyte was suspended after withdrawing from the Northern Ireland U-21 squad for Tuesday's match against France.
"It is difficult from our point of view," said manager Baxter.
The Crues manager did not explain why Whyte had pulled out of Jim Magilton's panel for the final Uefa Under-21 Championship qualifying game.
But he added: "Gavin has his own reasons for withdrawing and there is nothing controversial about them.
"It has been handled between the Irish Football Association and the club and we are disappointed about it.
"When a ban is put on him, it is a Uefa ban and you have to apply by the rules, but I thought a bit more common sense could have been used."
Crusaders were beaten 2-1 at Ballymena and will be knocked off the top of the table on Tuesday if second-placed Linfield beat Cliftonville in a rearranged fixture.
Baxter claimed other players had pulled out of the Under-21 squad but had not been suspended.
"That is something we maybe have to talk to the IFA about at a later date," he said.