Man City can achieve 'great things' in England & Europe - Khaldoon Al Mubarak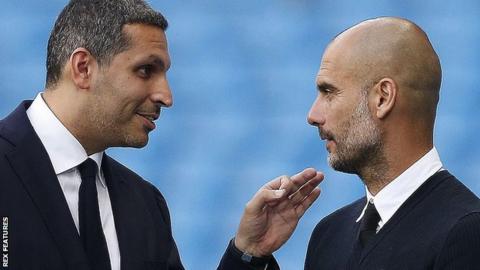 Manchester City are embarking on a "critical new phase" after posting record turnover for 2015-16, said chairman Khaldoon Al Mubarak.
City's revenue in the year to 31 May 2016 was £391.8m, an increase of 11.4%.
They made a £20.5m profit, with their wage-to-revenue ratio falling to 50%.
Khaldoon said: "We have the playing, coaching and off-field capabilities at our disposal to achieve great things in English and European football in the years ahead."
City's matchday revenue in the period rose by 21% to £52.5m, broadcasting revenue was up 19% to £161.4m, and commercial revenue grew 3% to £177.9m. The club remains debt free.
Since the financial year ended, City have spent £140m on new players, including paying Everton £47.5m for England defender John Stones.
Last season they finished fourth in the Premier League, their worst performance since 2010, but won the League Cup, and reached the Champions League semi-finals for the first time.
They have since appointed former Barcelona and Bayern Munich coach Pep Guardiola as manager, replacing Manuel Pellegrini.
Sheikh Mansour bought the club from former Thaksin Shinawatra in September 2008, and the club's turnover has risen for eight successive years.
Five years ago, the club posted losses of £194.9m in the rush to compete for major trophies.
The latest figures come from a period which included expansion of Etihad Stadium, which raised the capacity by 8,000 to 54,041 and a £265m investment in the club's parent company, City Football Group, by China Media Capital Holdings, which valued the group at $3bn.
"The 2016-17 season represents the beginning of a critical new phase in the evolution of Manchester City," said Khaldoon.
"Manchester City has now reached a level of sporting and commercial maturity that allows one to feed the other."
City are top of the Premier League but have taken only one point from their past two games.