Mansfield Town: Manager Adam Murray bans mobile phones at club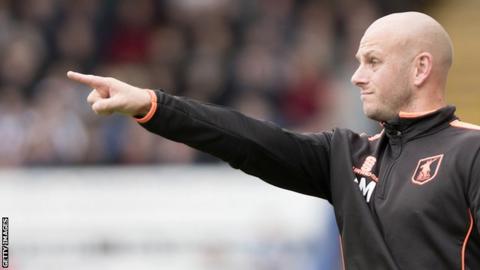 The mobile phone - a magnificent piece of kit or a modern-day menace?
Mansfield Town manager Adam Murray has decided it's the latter and banned his players from using phones when they are on duty at the League Two club.
Murray, 35, told BBC Radio Nottingham the issue of constantly using mobile phones was a problem in all walks of life. "It's a society thing," he said.
"I don't like the amount of time people spend on their phones around the football club."
Murray has taken a "marginal gains" approach to his fledgling management career, including ensuring his players learnt how to wash their hands to cut down on illness.
And he is convinced that improving communication off the pitch, will help the players gel on it.
"They don't talk and then they expect to go into an environment where you have to talk and it will just happen," he added.
"I think all of us, we're all guilty. We get lost in this technology world now and we forget the actual core values of human beings.
"We had a ban on phones in certain times anyway - players weren't allowed to be on their phones because they have to talk to each other.
"Instead of it just being in certain times, now we've put a complete stop on it."