Gary Bowyer: Blackpool players 'desperate' for success, says manager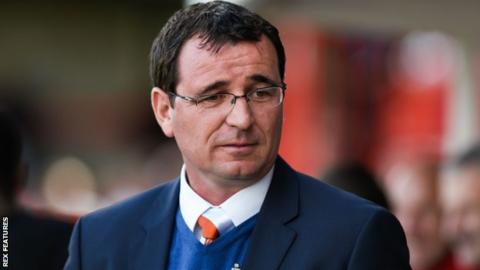 Blackpool manager Gary Bowyer says his players are "desperate" to halt a run of only one victory in eight matches.
The League Two side spurned a lead at Accrington on Saturday, conceding twice in the last five minutes to lose.
"They've had their day off cancelled this week and we've worked even harder than what we have been working," he told BBC Radio Lancashire.
"If they feel a little bit unlucky not to have a day off, tough - I felt a bit unlucky at five to five on Saturday."
Bowyer added: "We just felt that it was time to try something new and hopefully they go out there on Saturday with even more commitment if that's possible, to make sure their day off next week isn't cancelled.
"They're so determined to put it right it's untrue - they're a fantastic bunch of lads and they're desperate to do well for the club, which is impressive."
The Tangerines, a Premier League side as recently as 2010-11, have suffered successive relegations and are without a goal from open play in four games.
Asked about the players losing their day off, goalkeeper Sam Slocombe said: "You're contracted to play for a football club - whether you have a day off or not, that's not up to you.
"I have no issues with being in every day - I haven't really seen any within the lads."