Manchester United: Eric Bailly hopes to be back from knee injury in two months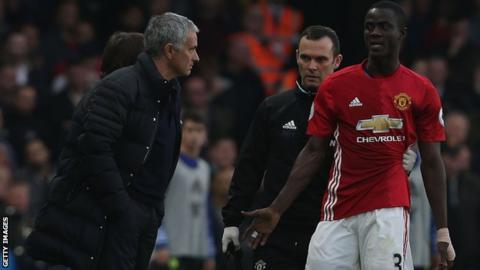 Manchester United defender Eric Bailly says he hopes to be back within two months after suffering a knee injury.
The 22-year-old Ivory Coast defender tangled with Eden Hazard during Sunday's 4-0 defeat at Chelsea and was substituted in the 52nd minute.
After the game, manager Jose Mourinho said he was "afraid" it was "a bad injury."
"I hope to be able to play again for United and The Elephants before two months," Bailly said on social media.
Bailly had played every minute in the league for United before Sunday's match at Stamford Bridge.
The centre-back signed from Spanish side Villarreal for about £30m in the summer.