Blackburn Rovers fans plan 1875 Venky's protest against Wolves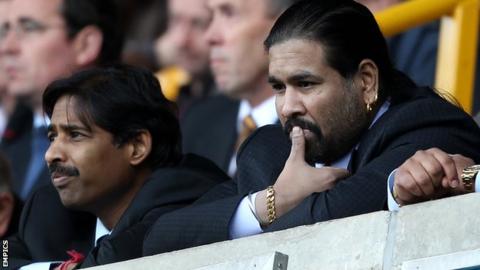 Blackburn Rovers fans have planned a protest against the club's owners by arriving 18 minutes into their game against Wolves and then leaving after 75 minutes.
The timings are to do with the year 1875, when Rovers were formed.
Blackburn's Indian owners Venky's, run by the Rao family, took over in 2010 but have seen debts rise to £104.2m.
"We respect the fans' right to protest," Rovers director Mike Cheston told BBC Radio Lancashire.
"We will, as we always have, facilitate a peaceful protest. We want the fans to really get behind and support the team in a game that we desperately want to win."
BBC Radio Lancashire and other press were not allowed to ask boss Owen Coyle about the protest on Thursday.
Local businessmen Ian Battersby and Ian Currie were reported to have made an investment proposal through their company Seneca Partners in May, but Venky's denied receiving a bid and said they were committed to the club.
Blackburn are 22nd in the Championship with 12 points from 14 games so far this season.