Tony Vance: Guernsey FC boss criticises the 'next generation' of island players
Last updated on .From the section Football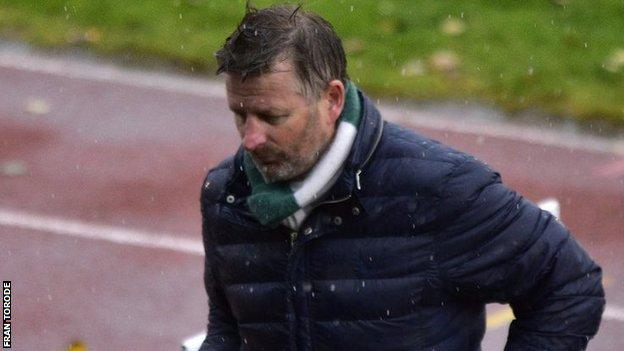 Guernsey FC boss Tony Vance is worried about the commitment of the 'next generation' of players on the island.
The club has had the same core group since its 2011 formation to give locals a better standard of football.
But they are starting to get older and are unable to commit to the side as much as they once could.
"I'm concerned about the next generation and I'm not sure that the fight is there enough to match what the current group have," Vance said.
"If they're not prepared to give it a real good go, that's fine, we'll probably end up skipping that generation and look at the up and coming youngsters who are 16 or 17 years old."
Vance's side have struggled this season and are near the relegation places in Isthmian league Division One South, something he puts down to a lack of commitment, especially for away games.
The team have failed to win since December last year.
"Guernsey FC is here to stay, we're doing our upmost to make sure it will be, and if people don't want to fight for the shirts and don't want the opportunities then that's fine, we'll just move onto the different generation," Vance said.
"If you look at the average age of our team and the group in our squad, you've got a large crop of 28-30 year-olds, then the next crop is 25 and that's only a couple of them, and beyond that there's only one or two 22-year-olds, and the rest are around 17 or 18.
"There's a huge gap missing in ages. There's people who haven't been part of it, others have drifted off and done other things, I understand that. But it's a slight worry in all levels of football locally that we need to up the numbers."