Silvio Gazzaniga: Sculptor who designed World Cup trophy dies aged 95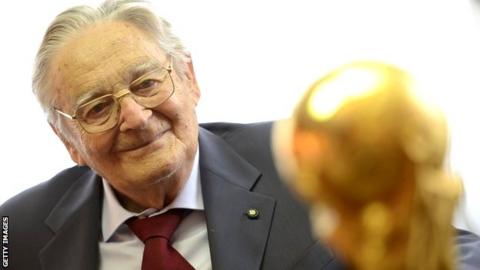 Silvio Gazzaniga, the goldsmith and sculptor who designed and created football's World Cup trophy, has died at home in Milan aged 95.
Known as "Mr Cups", he also designed Uefa Cup and the Uefa Super Cup, but it is for the famous 18-carat solid gold trophy that he will be best remembered.
"The World Cup is a mythic object for the players and for all football lovers," Fifa president Gianni Infantino said.
"We will be eternally grateful."
The Italian created the 6kg trophy after Brazil's third world title earned them the right to keep the Jules Rimet cup in 1970.
World football's governing body Fifa received 53 proposals for a new trophy, before opting in 1971 for Gazzaniga's design depicting two athletes holding up the Earth.
His son Giorgio said his father had brought a plaster model to show Fifa as he knew his design could not be understood on paper.
"The jury understood right away that it was a very photogenic cup," he said. "It's easy to lift and beautiful when raised. He created a universal trophy."
Gazzaniga never profited directly from images of the World Cup trophy - Fifa holds the image rights - but he gained more work on other prestigious trophies.