BBC Sport - Brunt and McAuley savour Northern Ireland's win over Azerbaijan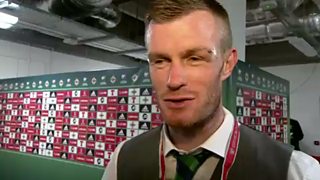 Brunt and McAuley revel in NI victory
Northern Ireland's Chris Brunt and Gareth McAuley react to Northern Ireland's 4-0 World Cup qualifying over Azerbaijan.
The West Bromwich Albion pair scored in the Windsor Park victory which moves Northern Ireland into second place in Group C on goal difference.
Brunt was back in the team for the first time since October 2015 having recovered from a serious knee injury.