South Africa FA announces disciplinary steps against coach Mashaba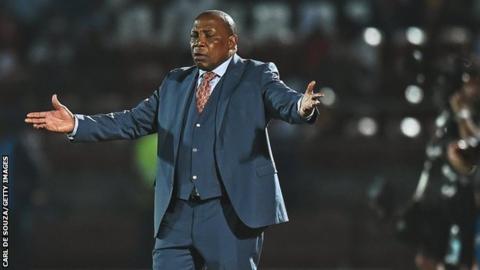 Less than 24 hours after South Africa coach Ephraim 'Shakes' Mashaba declared he felt his job was safe, he has been suspended by the country's football association in a shock move.
A brief statement from the South African Football Association (SAFA) on Sunday said Mashaba was being removed from his job for Tuesday's friendly in Mozambique for disciplinary reasons following the team's 2-1 win over Senegal in a 2018 World Cup qualifier.
No further details were given for Mashaba's suspension.
"SAFA has deemed it necessary to employ disciplinary measures after a regrettable incident at Peter Mokaba Stadium on Saturday. Assistant Coach Owen da Gama will take charge of the team in the international friendly match against Mozambique on Tuesday in Maputo" said the statement.
"As is our custom in matters such as these, the association will not be making any further comments on this matter out of respect for the dignity of the head coach and the association and the legally privileged nature of such proceedings," the statement added.
Mashaba had been under immense pressure going into the World Cup qualifier in Polokwane on Saturday and might have had some choice words to say to top officials afterwards.
He took almost an hour after the game to make his way to the customary post-match press conference, which usually takes place just minutes after the final whistle.
When he finally did speak to reporters, he said the narrow 2-1 victory over Senegal had saved his job.
"It's a second lease of life, I was dead already," the 66-year-coach told reporters after the controversial victory moved South Africa to four points from their opening two matches in group D.
It keeps Bafana Bafana very much in the frame for a place at the 2018 finals in Russia.
A soft penalty handed South Africa the lead after 43 minutes, which they doubled almost two minutes later as the Senegalese continued to argue with referee Joseph Lamptey of Ghana.
But, in the second half, Senegal laid siege to the Bafana side, and after pulling one back through French-based striker Cheikh Ndoye, missed several good chances to turn around the deficit, eventually running out of time in a desperate search for some reward.
Mashaba, who praised his players' resilience, has been on notice about his future after failure to qualify for the 2017 African Nations Cup finals in Gabon with South African Football Association president Danny Jordaan warning that failure to make a positive start to the group phase of the World Cup qualifiers would spell the end for Mashaba.
With South Africa back in the frame, Mashaba said the players need to build on the momentum:
"It's going to be important to win our games before we go to Senegal (for South Africa's last qualifier in November).
"If we go there we will need a lead of more than three points. I'm not saying we can't win there but it's going to be tough - tougher than it was today.
"The good thing is Senegal never gave us any chance of scoring a goal against them, let alone beating them. You can see, they played with so much confidence. We had a chance to score three or four and this could have helped us with goal difference," Mashaba added.