Former Uganda stars attack FA building
By Andrew Jackson Oryada
BBC Sport
Last updated on .From the section Football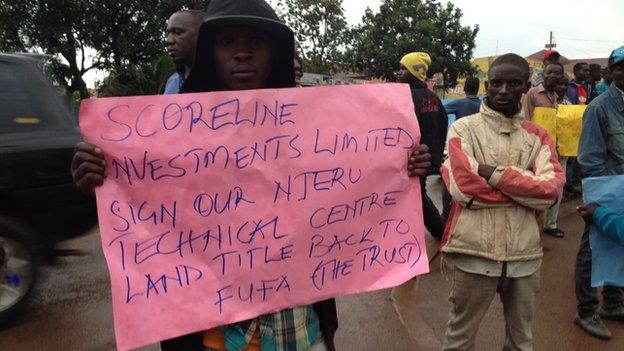 A group of former Uganda internationals have attacked and vandalised the headquarters of the country's Football Association (Fufa) in Mengo.
Led by Dan Walusimbi, more than 50 men stormed the offices on Monday but were chased away by Ugandan police.
The group broke a glass doors in an attempt to enter the offices.
Former national team captains George Ssemogerere, Philip Obwin, Polly Ouma and Mathias Kawesa were among the ex-players involved.
The group claims the current FA administration is not rightfully in office.
"We are the legal representatives of football management in this country because we were issued with the certificate of incorporation," said Walusimbi, who is the CEO of the Parallel Fufa - a rival organisation to the country's football association.
In 2014, the National Council of Sports ordered all national associations to register before 4 October but the Uganda FA did not support the move, reasoning that it was not allowed by Fifa.
Fufa insisted that the registration process contravened sections of Fifa regulations, but members of football's world governing body who visited Uganda said Fufa could go ahead and register.
However, it was discovered that the certificate had already been granted to Walusimbi and his group in November that year.
Walusimbi added that he believes the State Minister for Sports, Charles Bakkabulindi, and other officials are working illegally to supporting the FA.
He told BBC Sport that he had held a meeting on Monday with the Commandant of the Kampala Metropolitan Police and warned him that if nothing is done within 10 days, Parallel Fufa will continue to fight for what they believe belongs to them.
"We need to act to stop this impunity. We have been assured that the new Minister of Education and Sports, Janet Museveni (also the first lady) will listen to our concerns," added Walusimbi.