Rangers: Warburton not put off signing big names after Barton exit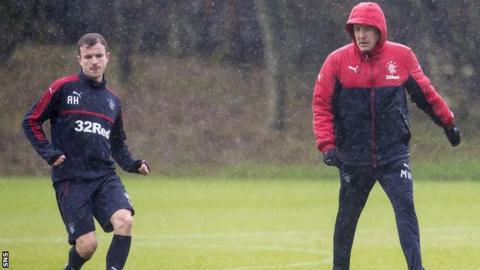 Rangers manager Mark Warburton insists he has not been put off marquee signings following Joey Barton's short stay at Ibrox.
Summer signing Barton's contract at Rangers was terminated last week shortly after disciplinary action against the midfielder had concluded.
A training ground row in September led to Barton's suspension by the club.
"Not at all," Warburton said when asked whether the episode had put him off high-profile signings.
"It's about doing your homework, your diligence, you hope you get it right.
"You have got to make what you think are the right decisions at the right time, and that's what you are paid for."
England cap Barton's former QPR teammate Niko Kranjcar also moved to Ibrox in the summer but a knee injury has sidelined the Croatia playmaker for six months.
And Warburton hinted he may seek to bolster his midfield options in the January transfer window.
"Niko provided a real cleverness," Warburton said. "He is a master technician, you saw his ability with the ball. We have lost that, I'm not going to hide behind the fact we've lost a very talented player.
"So we will be looking to maybe replace in that area."
Rangers, who are third in the Premiership, host Dundee on Saturday and Warburton says injured midfielder Jordan Rossiter, another summer signing, is "probably two weeks away" from a return.
Warburton also dismissed suggestions of a fall-out with forward Martyn Waghorn.
The club's top scorer last season with 28 goals, Waghorn has netted only once in the top-flight so far but did get seven goals in the early rounds of the League Cup.
The 26-year-old has been a substitute in Rangers' last four games.
"I read a report that we had a big fall-out, which was quite interesting," said Warburton.
"Waggy knocked on the door and said: 'Have we fallen out gaffer?' I said: 'Not as far as I'm aware, Waggy'. Far from it.
"He wants to play football, of course he does. When he is starting there are other guys that are frustrated.
"The decision [assistant manager] David [Weir] and I made was to increase the squad size from 21 to 23 because last year we literally ran out of bodies by the [Scottish] Cup final [defeat by Hibernian].
"So we had to add numbers, which we did. That means if everyone is fit and well you are going to have one or two frustrated players.
"The answer? Work harder, just work harder. The hard work will be recognised and we will pick you. But there is no doubt about Waggy's attitude. He is a first-class professional.
"He is frustrated but he shows it by working harder. When his time comes, which it will do shortly, then I'm sure he will be in shape to take it."