Henrik Larsson's son attacked after Helsingborgs relegation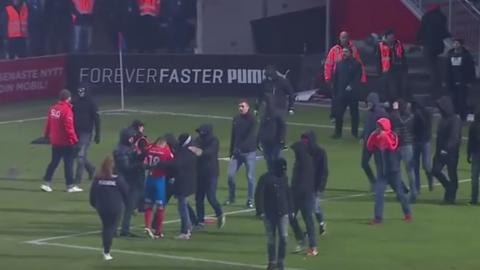 Henrik Larsson's son was assaulted by masked Helsingborgs fans after the five-time Swedish champions were relegated from the top flight.
Striker Jordan Larsson - who had scored a goal eight minutes from time that looked set to keep them up - went over to supporters after they lost the home leg of their play-off to Halmstads.
Fans ran onto the Olympia pitch and ripped the shirt off the 19-year-old.
Fans also attempted to confront Henrik Larsson, the club's head coach.
The former Celtic striker, who had two spells as a Helsingborgs player, has been in charge since January 2015 and plans to remain in the job.
Larsson, who was not aware his son had been confronted, says he will "not walk alone" in his hometown now and plans to send Jordan away on holiday.
"I didn't see that they attacked Jordan but if I had, I would have gone in there towards him. I was not going to run from there," he said. "If they turn on me, they turn on me. I had been beaten."
If any hooligans come to his house, he added he "has many dogs at home".
Larsson Jr had put them ahead on aggregate in the 82nd minute before Marcus Mathisen scored in the 87th and 90th minute.
At the time of writing - three hours after the final whistle - Helsingborgs' last tweet was thanking the club's "fantastic supporters".