Salomon Rondon: West Brom striker now talking our language, says boss Tony Pulis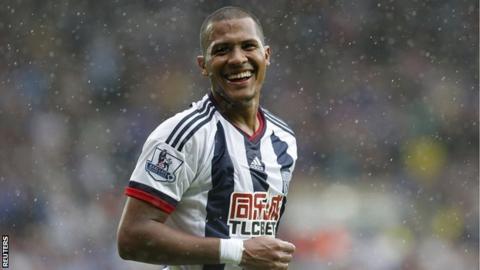 West Bromwich Albion boss Tony Pulis says striker Salomon Rondon is fitting in better at The Hawthorns this season now the Spanish-speaking Venezuelan's English has improved.
"Last year was a bit of a struggle for him. He couldn't speak much English," Pulis told BBC Sport.
Albion's £12m record signing hit 10 goals last season - but found it hard to communicate with his team-mates.
Fellow Spanish-speaking South American Claudio Yacob acted as his interpreter.
But Pulis says that, after 15 months in England, the help of Rondon's Argentine team-mate is no longer quite so necessary.
"Saloman's become more acclimatised with his English," added the Baggies head coach, who signed the former Las Palmas, Malaga and Rubin Kazan man from Zenit St Petersburg in August 2015.
"As a result, he's become more integrated within the group. The first year he just followed Yak around. Wherever Yak was going, he'd go as Yak would translate for him.
"But you go into the canteen now and he'll be sitting with the other lads as his English is better. He understands them."
Family man
Rondon is a big favourite back home in Venezuela, having scored 18 goals in 57 international appearances for the 'Vinotinto', named after the red wine colour of their shirts.
The 6 ft 1 ins, 13-and-a-half-stone striker has flown his parents and siblings to England to be with him - and Pulis is pleased at how they have all adapted to life in the Midlands.
"He's a smashing lad, with a wonderful family. And they've settled. He's a good player too," he said.
Used as lone striker in 4-1-4-1 system, which saw three of their four-man midfield - Scots Matt Phillips, James Morrison and Darren Fletcher - also on target, Rondon's fourth goal of the campaign rounded off Albion's 4-0 victory over Burnley on Monday night.
It was a result that lifted the Baggies to ninth in the Premier League, equalled Pulis's best Premier League victory - for Stoke against Newcastle in March 2011 - and earned Albion their biggest top-flight win since he took charge in January 2015.
Albion have only lost once in the 14 games in which Rondon has scored - and that was last season at home to eventual champions Leicester City.
"I'm pleased to see him on the scoresheet," said Pulis. "Fingers crossed he'll keep up that level of performance for us.
Albion 'not the finished article'
Albion have made the most of a relatively light recent schedule, taking a maximum six points from two matches so far in November.
But they have seven matches to come by 2 January, including meetings with four of the current top eight.
Pulis is already looking ahead to January for Albion's Chinese owners to help him reinforce his rejuvenated squad.
"I'm not suddenly thinking I've cracked it," he said. "You need to time get right. This is just part of it.
"We need to do things again this window who can improve it again. We've spoken to the Chinese and they understand.
"I don't want to bring in hundreds of players, just quality. But, if you keep building and progressing by winning games, you get more time."