Thomas Dodds: Teenage Guernsey FC midfielder wants to score more goals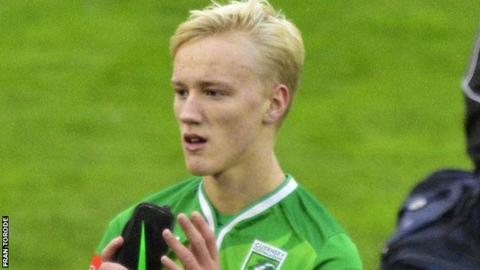 Midfielder Thomas Dodds says he hopes he can get more goals for Guernsey FC after the 18-year-old scored the winner against East Grinstead Town.
Guernsey beat East Grinstead 2-1 at the weekend for a third win in four games.
"In my style of play I don't always score the goals, so to get on the scoresheet was a really good feeling," he told BBC Radio Guernsey.
"It's nice to score relatively early in my Guernsey FC career and hopefully I can kick on and get more goals."
The schoolboy, who is also attached to Priaulx League side Vale Rec, has had three man-of-the-match awards this season since making his debut in the FA Cup replay loss to Thamesmead Town in August.
"I was always hopeful of getting some game time this season, but if I'm being honest my aim was just to get a few appearances and prove to myself that I could play at this level," he added.
"To be playing like I am currently, week in week out, it's more than I could have hoped for at this early stage in my career."