Gylfi Sigurdsson: Swansea midfielder vital in Swansea relegation fight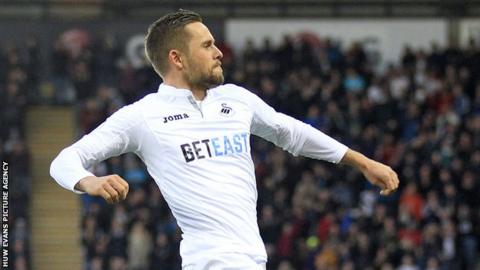 Swansea City manager Bob Bradley has said midfielder Gylfi Sigurdsson will be vital in the Welsh side's relegation battle.
Sigurdsson, 27, scored Swansea's first goal in the 5-4 win over Crystal Palace - their first win since the opening day of the Premier League season.
Bradley is an admirer of the Icelandic international, who faces former club Tottenham Hotspur this weekend.
"He has been so important for us," the Swansea City boss said.
"I know he's been important here before, but during the games I've been here I've been very impressed.
"I am impressed by his versatility, from an attacking stand-point he's a clever passer, his set-piece delivery is, for me, at the top level."
Sigurdsson's attacking contribution has been notable since he re-joined the Welsh club from Spurs on a permanent deal in July 2014, scoring 22 league goals in three seasons.
Swansea have struggled up-front this season, but the former Reading and Hoffenheim midfielder already has five goals to his name.
But Bradley, who succeeded Francesco Guidolin at the Liberty Stadium in October, believes there is more to Sigurdsson than scoring goals.
"He does not get enough credit defensively," he added.
"He comes underneath, to make it difficult for the deep-line playmaker, he steps up, he closes and moves side to side.
"He helps initiate pressure. He does a lot of work. He's a talented player, with some really special attacking qualities, and he's also a player who works for the team."
The Swans travel to Spurs, who are unbeaten at White Hart Lane so far this season, just one place off the bottom of the table and two points from safety.
The south Wales side have lost all five matches away at Tottenham since their return to the Premier League and have not won at White Hart Lane since a 3-1 victory in a League Cup clash in September 1978.
Sigurdsson may have departed the London club for the Swans more than two years ago, but Bradley said he will still be picking his playmaker's brain about the opposition.
"There's a little of that goes on," said Bradley.
"Gylfi has a good presence in the team, he's not the most vocal guy, but he's well respected.
"He's a very good professional and, as we put together our analysis, we always rely on players who have inside knowledge."