Sepp Blatter: Ex-Fifa boss to learn Cas decision on ban appeal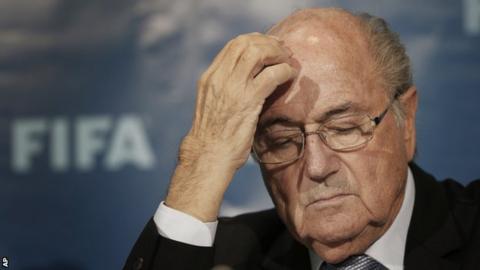 Former Fifa president Sepp Blatter will discover on Monday whether his six-year ban from football will be upheld, reduced or overturned by the Court of Arbitration for Sport (Cas).
Blatter and former Uefa boss Michel Platini were initially banned from football for eight years, reduced to six by Fifa's appeals committee. Cas cut Platini's ban to four years in May.
They were found guilty of breaches over a £1.3m "disloyal payment" to Platini.
Both deny wrongdoing.
Platini had sought to get the ban overturned by Cas, but a three-man panel said it "was not convinced by the legitimacy of the payment".
He and Blatter, Fifa boss from 1998 to 2015, said the payment in 2011 was made for consultancy work the Frenchman had carried out for Blatter between 1998 and 2002, and that they had a "gentleman's agreement" on when the balance was to be settled.
The matter is also being looked into by Swiss prosecutors.
Take part in our new Premier League Predictor game, which allows you to create leagues with friends.