Matt Bloomfield column: FA Cup unpredictability makes it special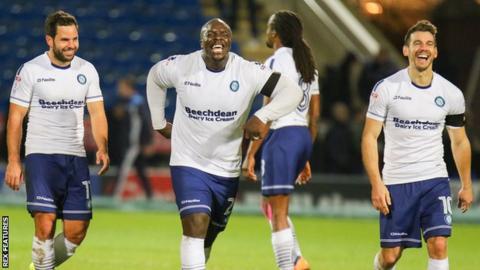 I was lying on the bed when I should have been reading a story to my 20-month-old daughter - instead she was looking at me strangely, wondering what was going on, as I repeatedly shouted number 46 at the TV.
Manchester United had just been drawn out at home in the FA Cup third round draw, and I was dreaming of a trip to Old Trafford.
I had spent the day on 'daddy day care' duty. My wife was at work and I was enjoying it with my daughter during a well-earned day off, after our 5-0 FA Cup win at Chesterfield on Saturday.
I loved spending the day with her as I always do, but I was also wishing the day away. The FA Cup third round draw was at 19:10 GMT and we were in the hat.
Although I feel like I have many more seasons left in the legs yet, you never really know how many times you will reach this stage of the competition. In 13 years playing for Wycombe Wanderers, and at 32, this is only the third time that I have reached the third round.
As someone who has plied their trade in the bottom two tiers of the English Football League, I have never taken these opportunities for granted - especially as I have got older.
I know that supporters up and down the country will have been glued to BBC Two watching Steven Gerrard and Ian Wright drawing out the numbers. I can assure you that players will have been anticipating the draw just as much.
The sheer unpredictability of being able to play against any one of those teams makes the FA Cup so special.
I had mates from back home in Suffolk texting me, saying that seeing me run out at Portman Road against Ipswich was the draw they were after. One of my best mates Russell Martin is captain at Norwich City, I grew up an hour from Carrow Road and attended games with my grandad - but have never played there.
I'm sure the players at Stourbridge and Northampton were not dreaming of drawing Wycombe Wanderers away but, for all concerned, it's now a chance to progress to the fourth round.
I'm so pleased that, after playing away in both rounds so far this season, our supporters have a home FA Cup game to attend. The atmosphere for last year's third round match against Aston Villa was electric.
The winner of the replay between Stourbridge and Northampton will fancy their chances of coming to Adams Park and beating us. Equally, although we know that playing either team will be extremely tough, we have our sights set on progressing again.
If we can win then there is every chance I'll be shouting at the TV again during the fourth round draw!