MLS Cup: Seattle Sounders beat Toronto FC on penalties to win first title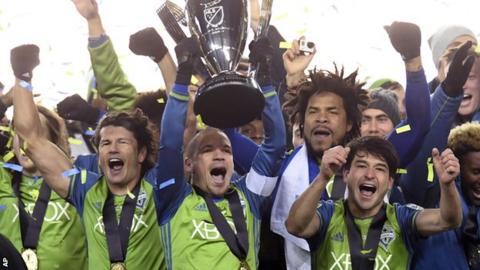 Seattle Sounders won the MLS Cup for the first time after beating Toronto FC 5-4 on penalties.
Defender Roman Torres scored the winning spot-kick after his side failed to register a shot on target as the match finished goalless in 120 minutes.
Sounders keeper Stefan Frei made several good saves before stopping one of two penalties the Canadians missed.
Frei, a former Toronto player, made his best save when tipping away Jozy Altidore's header in the 108th minute.
"It looked like it was going to go in and then all of a sudden here comes this paw," said Sounders manager Brian Schmetzer.
"It was a tremendous save but there were a couple of other times I thought the ball might have gone in."
Both sides were making their first appearance in the deciding match of the MLS season, held at Toronto's ground, BMO Field.
"That was one of the great saves that I have seen in a big moment because that goal to me ends the game," Toronto boss Greg Vanney said of Frei's full-stretch stop.
"We win if we score that. He saved the game for them."