FA Trophy: Truro City 'heartbreak' after Forest green Rovers loss in extra time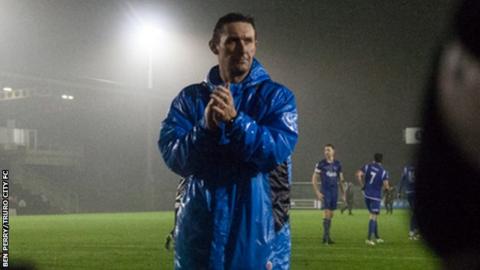 Truro City boss Lee Hodges says he is proud of his side despite their 1-0 extra time loss to Forest Green Rovers in the first round of the FA Trophy.
Darren Carter got the decisive goal in the 109th minute to seal the win.
"To hold a team like Forest Green, who are pushing to get into League Two is a fantastic achievement," Hodges said.
"We looked a totally different team to how we've started the season, and the boys are buying in to everything we're asking them to do."
City are 14th in National League South, 34 places below third-placed National League side Forest Green, but held Rovers to a 1-1 draw in the first tie on Saturday.
"It's a heartbreak, but we've lost to an absolute world-class strike, he's struck it from 25 yards and put it in the top corner," Hodges added to BBC Radio Cornwall.
"I'm sitting here very proud of the way they've performed
"We've hit the crossbar twice in the space of 30 seconds, and if that goes in you never know what could happen, but they've performed to their maximum and they were excellent."
Truro have never made it beyond the opening round of the second-tier FA knockout competition, having last reached the first round in 2009.
"Truro's done Cornwall proud over these last couple of games," added Hodges.
"But as the manager now you have to stop and think that we've got the league now, and the problem is they've put in these two games against Forest Green Rovers, we've got to go and do it in the league now and be more consistent."