Liverpool v Everton: Simon Mignolet gets nod over Lorius Karius for derby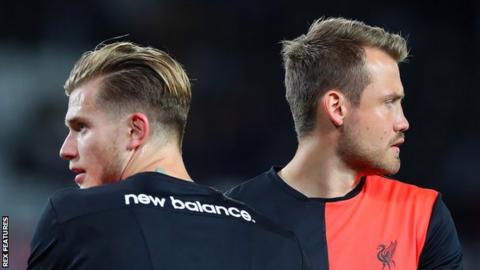 Simon Mignolet will continue in goal for Liverpool in the derby at Everton on Monday after he replaced Loris Karius for the win over Middlesbrough.
Karius was dropped after mistakes in a 4-3 defeat at Bournemouth and 2-2 home draw with West Ham.
"I don't want to change each week, that was not the plan," said Klopp.
"Simon had a really good game against Middlesbrough so he will be in goal for sure. We only made the change because Simon is in brilliant shape."
Karius, signed from Mainz for £4.7m in the summer, was criticised by several pundits - including Gary and Phil Neville - following his displays against Bournemouth and West Ham.
He produced a fumble for Bournemouth's late winner on 4 December and was criticised for not saving a Dimitri Payet free-kick in the draw with the Hammers.
"I know how fantastic Loris is as a goalkeeper," added Klopp.
"It is a good decision for both the way I see it. Sometimes the job is to take someone out of the public view. Step aside and use the time to get in your best shape."
Sturridge closes in on return
Reds striker Daniel Sturridge has missed five games with a calf injury but could also figure against Everton along with midfielder Emre Can, but centre-back Joel Matip is a doubt.
"It is still a maybe," Klopp said of Sturridge.
"He is closer to team training than he was last week and maybe we can involve him on Friday or Saturday.
"Having Daniel Sturridge for 20 minutes would be fantastic. If he is available he will be involved."