BBC Sport - Irish Premiership: Cliftonville fight back to beat Ards 2-1 at Solitude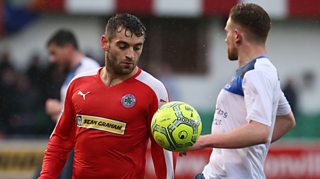 Cliftonville recover to beat Ards at Solitude
Cliftonville bounce back from an early one-goal deficit to beat Ards 2-1 at Solitude.
Michael Ruddy scored from the penalty spot to give Ards the lead on the half hour mark.
David McDaid found the net from the edge of the penalty area to draw Cliftonville level, before Levi Ives scored the winner for the home side.