Claudio Ranieri: Leicester manager inducted in Italian Hall of Fame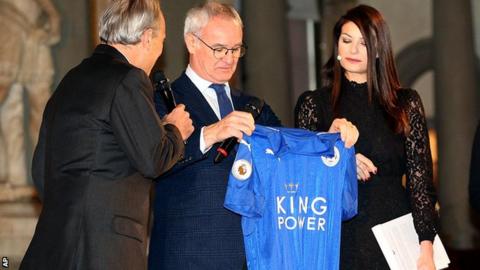 Leicester City manager Claudio Ranieri has been inducted into the Italian Football Federation's Hall of Fame.
He became the third Italian manager to win the Premier League title with an astonishing victory in the 2015-16 season.
The 65-year-old is included alongside former Chelsea manager Carlo Ancelotti and ex-Manchester City boss Roberto Mancini.
The FIGC promotes the efforts of Italians working within football.
The nine other new inductees were:
Giuseppe Bergomi (Italian player)
Paulo Roberto Falcao (Foreign player)
Silvio Berlusconi (Italian director)
Graziano Cesari (Italian referee)
Paolo Rossi (Italian veteran)
Melania Gabbiadini (Female Italian player)
Posthumous Awards:
Nils Liedholm (Swedish former AC Milan player)
Giulio Campanati (football referee and Italian entrepreneur)
Cesare Maldini (Italian player)