Garth Crooks' team of the week: Sanchez, Rooney, Brunt, Cahill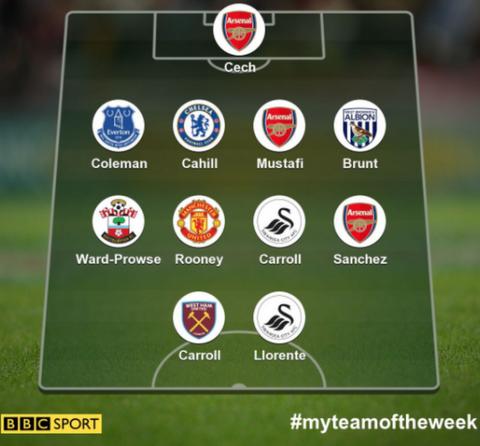 Chelsea beat struggling Hull 2-0 to extend their lead at the top of the Premier League to eight points. Arsenal were the only other team in the top six to win, beating Burnley 2-1.
Manchester City and Tottenham drew 2-2 on Saturday, while Wayne Rooney scored a record 250th Manchester United goal as they rescued a point at Stoke.
Elsewhere, there were wins for Southampton against Leicester, Swansea against Liverpool, Everton at Crystal Palace, West Ham at Middlesbrough and West Brom against Sunderland. Bournemouth and Watford drew.
Do you agree with my team of the week or would you go for a different team? Why not pick your very own team of the week from the shortlist selected by BBC Sport journalists and share it with your friends?
Goalkeeper - Petr Cech (Arsenal)
I was tempted to go for Chelsea keeper Thibaut Courtois for another clean sheet. His save from Hull's Oumar Niasse in the closing minutes nearly clinched it, but I have gone for Petr Cech. The former Chelsea keeper was first class throughout the messy affair. He took a blow to the head that caused a moment's concern but recovered to put in a solid performance against a very dangerous Burnley.
You can count on Cech to be professional in a crisis and there were times in this match when Arsenal seemed to be out of control. The behaviour of Arsene Wenger was jaw-dropping. To push the fourth official, who was well within his rights to ask Wenger to leave the area having been dismissed, was appalling. It's just as well the Arsenal manager has apologised to him, it's the least he could do. Now he will have to wait to hear what the FA thought about this unseemly affair. I suspect it won't be good.
Right-back - Seamus Coleman (Everton)
What a finish by Seamus Coleman. If there is one full-back you want the ball to drop to in the opposition's penalty area minutes from time then Coleman's the man. Palace can moan all they want about Jeffrey Schlupp requiring treatment for cramp. The referee is under no obligation to stop the match unless he considers the matter serious. For Everton - and Coleman in particular - to take advantage of Palace's misfortune is precisely what the game is all about.
To be perfectly honest, Coleman was superb all afternoon. He was a constant menace down Crystal Palace's left side and caused all sorts of problems for the Eagles. Time is running out for Sam Allardyce. Having suffered that earth-shattering experience of losing the England job in such an undignified fashion, I wondered if it has destroyed what has hitherto been an impregnable confidence? I hope not because Palace are going to need it.
Centre-back - Shkodran Mustafi (Arsenal)
Trying to win a football match with 10 men is one thing - but it becomes considerably more difficult when your manager and team-mates seem to have lost the plot while you are trying to do it. That's what appeared to be the situation facing Shkodran Mustafi in a mad spell at Emirates Stadium. It all started when Granit Xhaka made a totally outrageous tackle on Steven Defour, followed by an equally needless challenge by Francis Coquelin that resulted in a penalty.
The madness didn't stop there either; Arsene Wenger was then removed from the dugout for remonstrating about a decision the referee Jon Moss got absolutely right. Fortunately, Mustafi kept his cool at a time when all around him were losing theirs.
Centre-back - Gary Cahill (Chelsea)
This was not an easy game for Chelsea or Gary Cahill but they both got through it. The Chelsea captain suffered a nasty bang on the head having clashed with Ryan Mason. Mason never recovered and went straight to hospital, while Cahill went on to score the goal that sealed a difficult victory. The Blues have now stretched their lead at the top of the table, having kept their discipline and their composure.
Notably, we saw the return of Diego Costa from the naughty corner, adding his goalscoring talents to the side. No doubt Cahill read Costa the riot act on behalf of the players and dressing room order seems to have been restored. Now they go to Liverpool in two weeks' time with an opportunity to put this title race beyond the Merseysiders. It's amazing what a team can achieve with discipline, talent and composure.
Left-back - Chris Brunt (West Brom)
What a strike by Chris Brunt. We know the Northern Irishman can whack a ball, but his goal against Sunderland was so sweetly struck that it was an object of sheer beauty. What was not so pretty was the altercation between Darren Fletcher and Papy Djilobodji when the Senegal defender appeared to shove the West Brom captain in the face. Based on the evidence, no punches were thrown - but hands were certainly raised.
Why West Brom manager Tony Pulis, in his post-match interview, devolved his 'opinion' to the MOTD studio on this specific matter I don't really understand. Managers can seriously defend a player's actions or condemn them - Pulis elected to do neither. I hope we are not coming into a period in the game where managers (Pep Guardiola included) no longer think it their job to express an opinion. However, there was one thing we all agreed on: Brunt's goal was a cracker.
Midfield - Alexis Sanchez (Arsenal)
The penalty that settled this fixture was controversial but it took a big man to convert it. Once I saw Alexis Sanchez step up to the spot I knew the game was over. The fact Jon Moss got the decision wrong in my view is immaterial now, but what did the referee think Ben Mee was going to do, let Laurent Koscielny head the ball into the back of the net?
The defender is entitled to clear the ball regardless of where the opposing player is prepared to stick his head. Nevertheless, the penalty was awarded and Sanchez showed his class with a coolly taken spot-kick in a white hot atmosphere. It's just as well Arsenal have a player who in this sort of situation can cope with the pressure.
Midfield - Tom Carroll (Swansea)
The former Tottenham midfielder gave Liverpool fair warning early in the first half when he hit the woodwork. However, it was the way this young talent seemed to run the show that impressed me. He spent long periods dictating the play - irrespective of the presence of Jordan Henderson, Adam Lallana and Georginio Wijnaldum - and did so with real purpose. Swansea's first league win at Anfield was masterminded by a 24-year-old who did not have much Premier League experience.
Last week, we saw Liverpool defend heroically at Old Trafford - but courage alone is not enough. Liverpool need know-how and a central defender who can organise and marshal his defensive colleagues in isolation and one that doesn't need the assistance of the cavalry every time there is a set-piece or counter-attack. The Reds now have to face Chelsea, Spurs and Arsenal at Anfield in a matter of weeks. I keep saying that Liverpool can't win the title with this defence, but it's obvious Jurgen Klopp disagrees.
Midfield - Wayne Rooney (Manchester United)
He's only gone and done it. Wayne Rooney has broken Sir Bobby Charlton's record and Bobby was there to see it. 250 not out. It was a landmark goal by the best team player of his generation. Rooney was so consumed in his post-match interview by the fact that Manchester United had salvaged a point in such difficult circumstances that his record-breaking exploit had become secondary.
This typified a player who I have grown to greatly respect over the years. He never misses an England match if called upon and plays for his club in any position when required. Rooney stood up to Sir Alex Ferguson (and quite rightly) when he felt his manager wasn't buying the players befitting of Manchester United, prolonged David Moyes' tenure at the club with virtuoso performances having been told he was surplus to requirements - and now sits on the bench without a moment's fuss or hesitation under Jose Mourinho, waiting to come to the rescue if needed. This is a player who deserves all the plaudits. After all, he's earned them.
Midfield - James Ward-Prowse (Southampton)
This was a game in which Leicester City were unrecognisable from the side who won the Premier League title. Admittedly, Southampton and James Ward-Prowse in particular contributed to their demise, but I must say the Foxes are playing with fire. Better teams than them have gone down and Claudio Ranieri had better pull his finger out.
In the meantime, Southampton have worked their way through a very difficult period and as a result unearthed a new Morgan Schneiderlin. Every time I see Ward-Prowse play, he gets better and better and he was the architect of Leicester's downfall. That said, if Leicester are serious about staying in the Premier League, they should seriously consider how they manage their Champions League fixtures because they can't succeed in both.
Forward - Andy Carroll (West Ham)
Crisis, what crisis? I said last week if Andy Carroll can stay fit between now and the end of the season, Dimitri Payet can take a running jump. In fact, I will drive him to Marseille myself.
The former Liverpool and Newcastle striker looks in great form at the moment and destroyed Middlesbrough, who seem to be punching above their weight. I have an enormous amount of time for manager Aitor Karanka's team, who remind me a bit of Jack Charlton's Boro in the 70s. There wasn't a great deal of stardom in that side either but tremendous endeavour. Unfortunately, against a rampant West Ham led by Carroll, effort wasn't enough.
Forward - Fernando Llorente (Swansea)
I just didn't see this result coming and that's why you can't take your eyes off the Premier League for a moment. Swansea may have the worst defensive record in the division but that didn't mean a row of beans to the Swans on the day.
Llorente's first goal was an opportunist's toe-poke, but his second was superb. The way he attacked the ball was brave and full of intent and gave Swansea what they deserved. Liverpool still find themselves in a fantastic position regardless of this result - but a wonderful opportunity will soon evaporate if they don't fix what has been glaringly obvious to me all season. Liverpool need a central defensive general.