Patrick van Aanholt: Crystal Palace sign Sunderland defender in potential £14m deal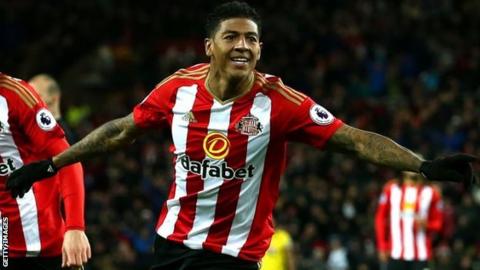 Crystal Palace have signed Sunderland defender Patrick van Aanholt for a transfer fee that could rise to £14m.
Netherlands international Van Aanholt, 26, made 95 appearances for Sunderland after joining them in a £1.5m move from Chelsea in the summer of 2014.
He has agreed a four-and-a-half-year deal and Eagles boss Sam Allardyce said: "He'll help at both ends.
"He was instrumental in Sunderland's fight for survival last year, not just as a full-back but for goals."
Allardyce added: "You like to bring players you've worked with before and hopefully his impact is instant.
"We want him to defend well because we're conceding too many goals."
Sunderland are bottom of the Premier League while Crystal Palace, who play away at Bournemouth on Tuesday evening, are also in the relegation zone in 18th.
In a news conference on Monday, Allardyce also confirmed an interest in signing 29-year-old former Juventus defender Martin Caceres, but dismissed speculation linking him with a move for Arsenal right-back Carl Jenkinson, 24.
Asked about Jenkinson, Allardyce said: "We have other priorities at the moment. Who knows what might happen, but not for now.
"Caceres is one who may appear after the window as he's not attached to a club. Yes, I have an interest.
"We're still hunting for at least two players. We're sitting with as many people as we possibly can."
This site is optimised for modern web browsers, and does not fully support your browser