Guernsey Raiders praised by Steve Melbourne after 'cruel' loss to Dorking
Last updated on .From the section Football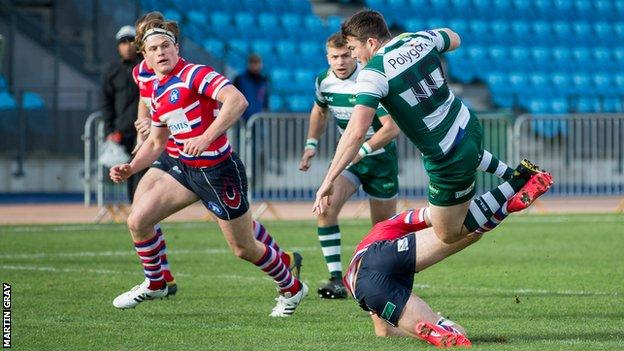 Steve Melbourne felt Guernsey Raiders could be proud of their display against Dorking, despite their 30-25 defeat.
The game being rearranged meant a number of Guernsey players were unavailable and the club's development officer Melbourne took charge in the absence of boss Jordan Reynolds.
Melbourne told BBC Radio Guernsey: "We had guys playing out of position and guys new to the first team.
"They all gelled really well together. The boys put in a great shift."
A late try secured victory for Dorking after the Raiders had come from behind in the second half.
"It was unbelievably cruel. The boys have worked so hard and come back from a five-point deficit," Melbourne said.
"Until the referee blows that whistle it's never over. Dorking came back hard.
"Our scrum was dominant, the line-out worked really well and they made Dorking make mistakes - it was absolutely fantastic."