Jersey rule out 'alternative Muratti' against Ormer Ladies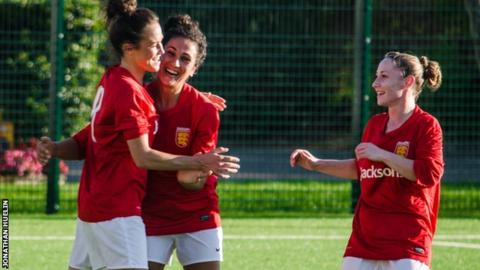 The Jersey Football Association say they will not replace the cancelled women's Muratti match with a fixture against Ormer Ladies.
The 2017 clash between rivals Guernsey and Jersey was axed on Wednesday because the Greens could not convince enough players to register.
Many have instead committed to Ormer, a Guernsey club but based in Hampshire, and affiliated to the Hampshire FA.
But Jersey have denied reports that they now plan to play them instead.
"There had been talks before Christmas about Ormer FC coming over, but it was never [to play against] a senior team," said Jersey FA chief executive Neville Davidson.
"That won't be happening. Any representative Jersey team, senior or at any level, will not be playing a club team."
It's a massive blow
Guernsey's leading players have effectively pledged their allegiance to Ormer, so far refusing to register with the Guernsey FA and therefore becoming ineligible for the Muratti.
"It's a massive blow," Davidson told BBC Radio Jersey. "The Guernsey FA have been talking to the senior footballers over there, and it's just a shame they couldn't resolve it.
"The GFA set up a strategy for the 2021 Island Games, developing teams to come through and represent Guernsey, and I believe the senior girls are not in agreement with it - so it hasn't been resolved and it's unfortunate."
Brian Horsepool, technical director of Ormer, insisted the women's membership of the Hampshire FA League is not to blame as they only play in friendlies on the mainland, not competitive games.
Professional opposition
Jersey's women. though. are preparing to defend their Island Games title this summer in Gotland, and hope to face a professional side as part of their build up.
"The plan was always to get them more games in preparation," added Davidson.
"We play the Navy on 18 March, then a game shortly after away to a professional club, then another two or three at the end of May and beginning of June.
"They're going to get just as many games - the manager and his coaches are very buoyant about the draw and we've got new blood coming into the squad, which is a good sign."