Football Association of Wales to appeal against Fifa poppy fine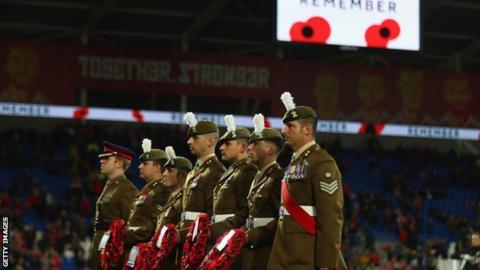 The Football Association of Wales will be appealing against sanctions imposed by Fifa for displaying poppies during a World Cup qualifier.
The FAW were fined 20,000 Sfr (£15,694) following commemorations prior to Wales' World Cup qualifier against Serbia in November.
Football's governing body took action against because fans wore poppies in the stands and the armed forces held bunches of poppies at the side of the pitch.
"The Football Association of Wales can confirm that it has received written reasons from Fifa's disciplinary committee relating to sanctions imposed during our World Cup qualifier against Serbia on 12 November, 2016," the FAW said in a statement.
"Following this, the FAW have now informed FIFA of our intention to appeal the decision."
Fifa also fined the national associations of England, Northern Ireland and Scotland for displaying poppies.
World football's governing body prohibits political, religious or commercial messages on shirts.
The Scottish FA confirmed they will be appealing against Fifa sanctions that followed Scotland players wearing poppies at Wembley.
England's Football Association have also indicated they will appeal against the fine of 45,000 Swiss francs (£35,311).