Burnley: Older mascots to walk out with players for FA Cup game against Lincoln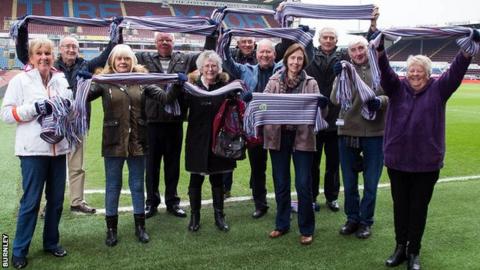 Burnley have replaced their child mascots with pensioners for Saturday's FA Cup fifth round match against Lincoln City at Turf Moor.
The mascots are aged from 69 to 85 and Burnley say the gesture is to repay their "lifetime support".
It is thought to be the first time an English club has had older mascots.
Last year Swedish club AIK paid tribute to their older fans by walking out with 12 supporters - all aged between 81 and 96 - before a league game.
"We wanted to make the gesture to give back to the lifetime of support they have given to the club" said Neil Hart, Burnley's community chief executive officer.
Win your way to Wembley
It's not too late to enter this year's FA People's Cup - as long as you do it by the deadline anyway - and that is at midnight on Sunday.
Entry is completely FREE, there are categories for everyone AND you can enter either as a team or an individual player.
Find out all the details here.