Neil Warnock: Cardiff City boss signs contract for next season
Last updated on .From the section Football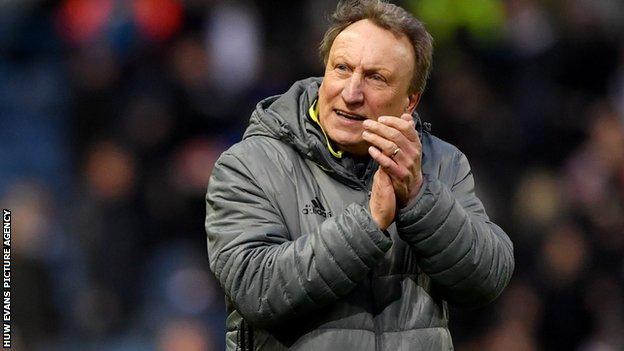 Cardiff City manager Neil Warnock has signed a new contract to stay at the Championship club.
Warnock, 68, whose deal was set to expire in the summer, has agreed a one-year extension to remain in the post in 2017-18 after a series of talks.
Coaching staff Kevin Blackwell, Ronnie Jepson and Andy Dibble will also remain at Cardiff City Stadium.
"I'll be here as long as the fans want me. Because if they want me I will be doing a good job," Warnock said,
The former Leeds, QPR and Crystal Palace boss had been seeking assurances over the club's transfer policy before committing to a new deal.
Cardiff were in the Championship relegation zone when Warnock took over, but have moved up to 12th after three successive wins.
Before Saturday's 5-0 win over Rotherham, Cardiff chairman Mehmet Dalman told BBC Wales Sport he was confident of keeping Warnock.
'They couldn't have done it quicker'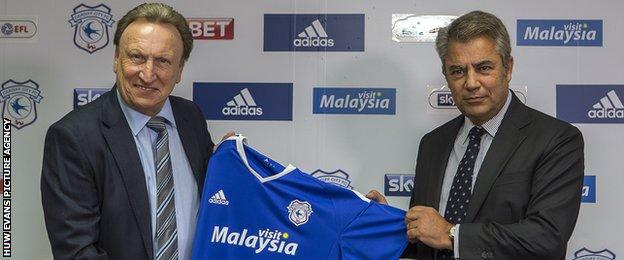 The agreement was reached after a key meeting with Dalman on Monday.
Warnock praised owner Vincent Tan and the Cardiff board for quickly reaching an agreement. Next season Warnock will seek his eighth promotion as a manager.
He said: "They couldn't have done it any quicker apart from driving around to my house yesterday.
"I expected it to be done in the next three or four weeks, but there was not a lot that needed sorting out.
''We wanted to stay, they wanted us to stay, we wanted an opportunity to do well next season, they've given us that.
"Now we want to try and put the club in a place where we will be strong enough next season to have a go.
"We'll be up against big budgets so we'll have to be very good at what we do all over the club to give us a chance to get successful."
'All singing from the same hymn sheet'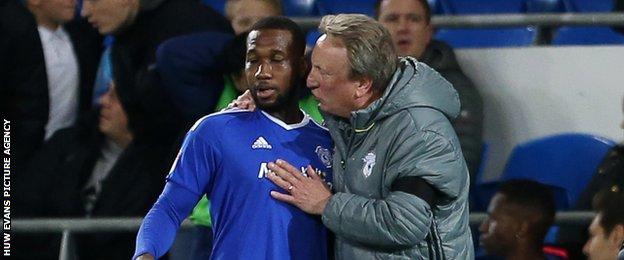 Warnock praised the unity at Cardiff as he closes in on keeping a key player at the club for next season. Canadian international Junior Hoilett is set to stay and sign a new deal.
"We're all singing from the same hymn sheet. I don't think I have been unreasonable and I think they are desperate to do well - Vincent, Mehmet and (chief executive) Ken (Choo) - we all want the same thing," Warnock said.
"We all want to do well though there are no guarantees - just look at Ranieri.
"My objective is to be as popular with Cardiff City fans here in 12 months time as I am now because we don't know what's around the corner.
"The contract was never in doubt, I just didn't want to come for the wrong reasons. Vincent Tan and Mehmet Dalman have been nothing but supportive from the start."
BBC Wales Sport football correspondent Rob Phillips
Cardiff City owner Vincent Tan has rightly acted quickly to secure a new deal for Neil Warnock and his coaching team.
Warnock has galvanised the Championship club and from the start has looked a perfect fit for the Bluebirds.
It seems he is not asking for a king's ransom for summer spending to fund his bid for an eighth promotion as a manager.
Cardiff City fans will feel enthused and excited. Warnock has helped them reconnect with the club.
As he said himself they should prepare themselves for a 'rollercoaster ride.'