Richard Hill: Eastleigh appoint former manager as director of football
Last updated on .From the section Football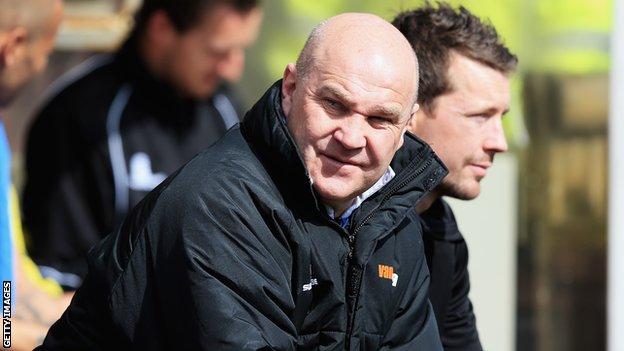 Eastleigh have appointed Richard Hill as director of football after the sacking of manager Martin Allen.
Hill managed Eastleigh between 2012 and 2015, overseeing their promotion to the National League before resigning.
He will take charge of the team in the short term, overseeing 'all football aspects', including the appointment of a fourth manager of the season.
"I am hopeful that by bringing Richard in, he will stabilise the club and then help push us on again," chairman Stewart Donald said in a statement.
"He would walk to the club to come back he loves it so much and I feel this passion coupled with his football knowledge will help us get things right and be vital in ensuring we, or to be clearer and more accurate me, from continuing to make mistakes in such a fundamental area."
Hill's return follows the departures of managers Allen, Ronnie Moore and Chris Todd this season, and he will be assisted by Craig McAllister, Ben Strevens and Lee Peacock,
The 53-year-old has managed Whitehawk and worked as a scout for Aston Villa since leaving Eastleigh in September 2015.
Donald added: "I can only unreservedly apologise for what I have put our fans, players and staff through this season. I genuinely thought all decisions made were right at the time but it is clear I have got this wrong."
Meanwhile, Eastleigh have re-signed former player Michael Green, and the full-back could be involved against Dover Athletic on Saturday.