Harry Limb: Burnley sign striker from ninth-tier Wisbech Town
Last updated on .From the section Football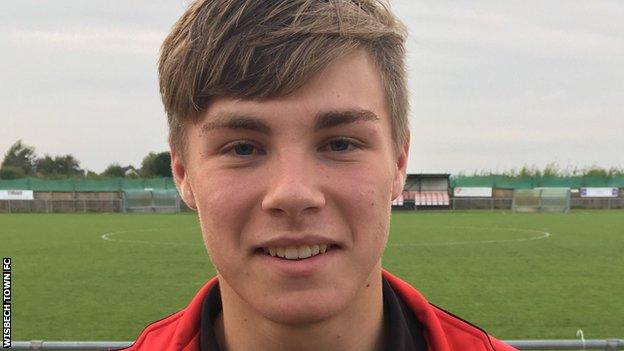 Premier League side Burnley have signed teenage striker Harry Limb from ninth-tier side Wisbech Town.
The 17-year-old, who also had a trial at Swansea City earlier this year, has signed an 18-month contract.
The ex-Boston United player scored 22 goals for the United Counties League Premier Division side this season.
Burnley were not obliged to pay for the player as he was non-contract, but have made a "donation" to the club, according to Fenmen boss Dick Creasey.
Creasey told BBC Sport: "If I'm perfectly honest with you, I thought he'd be a bit-part player this season.
"He'd played very little men's football, but he grasped it straight away and the rest is history.
"He's willing to learn and listen, but step five of non-league football to the Premier League is quite a journey."