Essam El Hadary: Egypt hero denies slapping Wadi Degla team-mate
Last updated on .From the section Football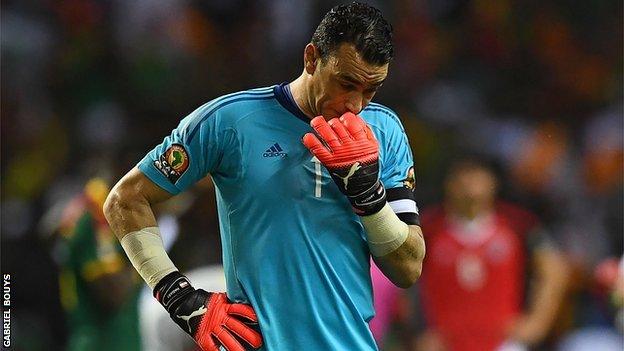 Egypt goalkeeper Essam El Hadary has denied slapping Wadi Degla team-mate Khaled Walid but could be forced out of the club after the incident.
"I did not slap him," El Hadary said. "I grabbed him by the shirt and threw a jersey in his face."
The 44-year-old, who became the oldest player at an Africa Cup of Nations last month, was left out of the Cairo club's 1-0 defeat by Al Ahly on Thursday.
Wadi Degla president Maged Samy has suggested he will transfer El Hadary.
Samy wrote on his Facebook page: "Available for transfer to the MLS (the US Major League Soccer) or Scandinavian leagues - veteran 44-years able to play two more years at top level."
El Hadary said he later received a call from Samy, who told him that he could resume training after Thursday's game, but did not dismiss the possibility of a transfer.
The veteran goalkeeper narrowly failed to add fifth Nations Cup title to his collection in February as Egypt were beaten 2-1 in the final by Cameroon.