Caf elections: Fifa president Infantino has 'no say' in matter
Last updated on .From the section Football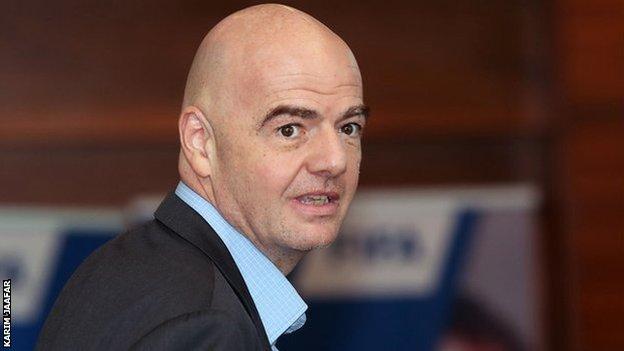 Fifa president Gianni Infantino has stated he has no influence on next month's Confederation of African Football presidential elections.
Infantino's comments come after he attended a party on Thursday hosted by the chairman of the Council of Southern African Football Associations, which has endorsed Caf candidate Ahmad Ahmad.
Madagascar FA chief Ahmad is the lone rival to Caf president Issa Hayatou.
"It is up to the Caf members to elect their own president," said Infantino.
"It is not up to the Fifa president to say anything about that.
"Whatever the Caf members decide will be the right decision and I will support whatever decision is taken."
Cosafa chairman Phillip Chiyangwa - also the chief of the Zimbabwe Football Association - held the event in Harare to celebrate his birthday.
He also invited other African FA chairmen from outside the Cosafa region.
Before the event took place Caf, in a letter sent on behalf of Hayatou, accused Chiyangwa of "trying to destabilise" the continent's governing body and warned he could face sanctions.
Hayatou is attempting to win an eighth term in office in the elections on 16 March.