Garth Crooks' team of the week: Ibrahimovic, Gabbiadini, Kane, Fabregas, Kante

By Garth Crooks
Football analyst
Last updated on .From the section Football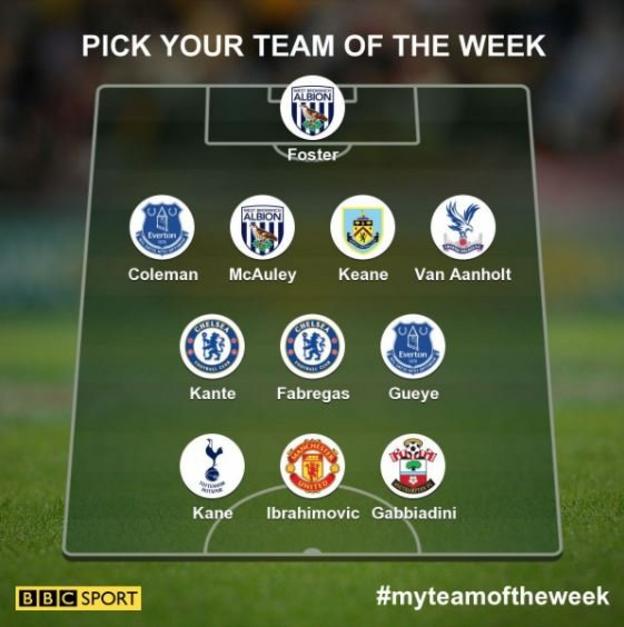 Jose Mourinho won his first trophy as Manchester United manager, his side beating Southampton in a thrilling EFL Cup final.
In the Premier League, Chelsea maintained their surge to the title by beating Swansea, while Tottenham are looking to chase them down after thrashing Stoke.
At the bottom end, Crystal Palace picked up a priceless win over Middlesbrough to move out of the relegation zone, but bottom side Sunderland lost to Everton.
Do you agree with my team of the week or would you go for a different team? Why not pick your very own team of the week from the shortlist selected by BBC Sport journalists and share it with your friends?
Pick your Team of the Week
Pick your XI from our list and share with your friends.
Goalkeeper - Ben Foster (West Brom)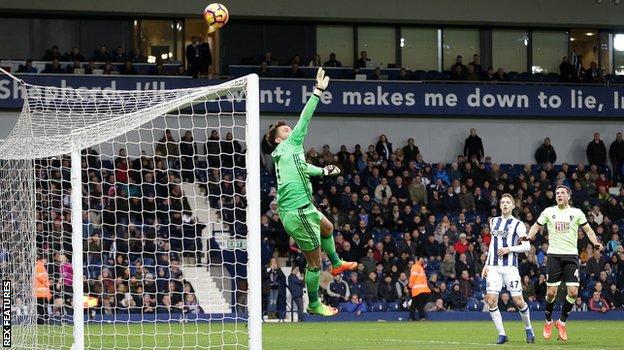 What a save from Tyrone Mings. The Bournemouth centre-half directed a sensational header towards the top corner of Ben Foster's net only for the England keeper to pull off a match-winning left-handed stop.
But how does Tony Pulis keep producing such effective teams? He always seems to leave clubs in better condition than when he arrived and currently West Brom are a pleasure to watch, which is something I can't say with all of Pulis' teams. The Baggies have 12 games left and need 10 points to achieve their best ever Premier League tally. With Foster in this form it looks like they have every chance.
Right-back - Seamus Coleman (Everton)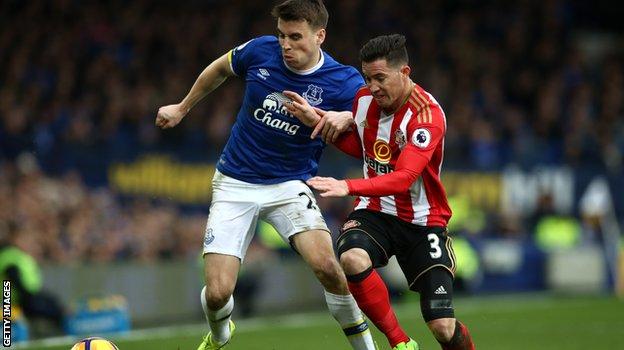 It was a tremendous ball for Idrissa Gueye and Ross Barkley should have scored in the second half after another wonderful cross by Seamus Coleman. The Irishman is playing out of his skin at the moment and for my money is Everton's player of the season.
And yet I can't understand for the life of me (and I apologise to Evertonians) how Manchester United or City haven't lured him away from Goodison Park. Coleman brings a dimension to Everton very few full-backs bring to a team. The problem for the opposition is that Coleman has been doing it for some considerable time. Coleman is an infectious player and it's a joy to watch him play.
Centre-back - Gareth McAuley (West Brom)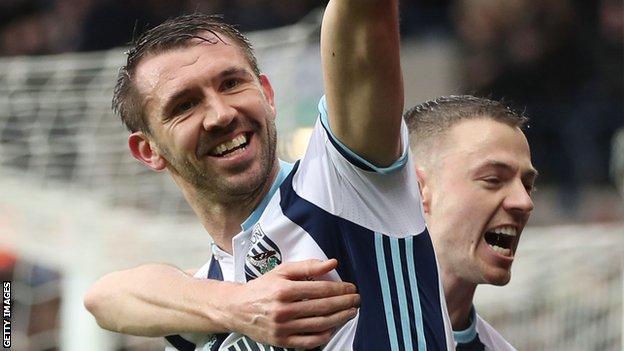 It has been a long and somewhat distinguished career for Gareth McAuley and he couldn't have spent his 500th appearance in football better than this. West Brom's 2-1 win over Bournemouth had an element of good fortune about it. The Baggies' first goal was a deflection before McAuley was handed a celebratory gift by the Cherries' unpredictable keeper Artur Boruc.
I have seen Boruc perform heroics for Bournemouth in the past and then he goes and does something that leaves you utterly puzzled. Not that McAuley wasn't grateful for the present - in fact he could have scored a second but for the intervention of the crossbar. Nevertheless, McAuley did grab his sixth league goal of the season, which is not bad for a centre-half who started his career at Linfield.
Centre-back - Michael Keane (Burnley)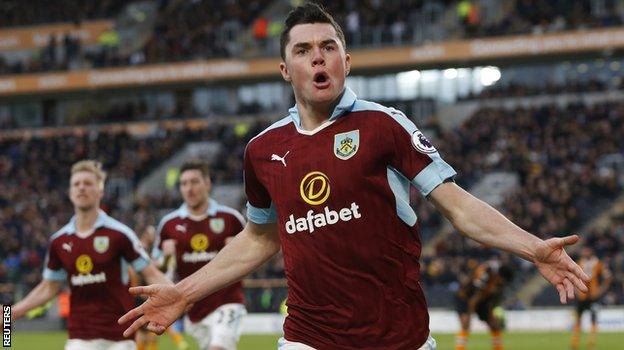 I thought that referee Martin Atkinson made absolutely the right call in giving a penalty to Hull when Michael Keane was adjudged to have raised his arm above his head and gained an advantage. At that point the game looked to be running away from Burnley. It took something a bit special to get the Clarets back into the match - but who would have thought it would have been the very man responsible for putting them behind in the first place?
Keane brought the ball down on his chest, allowed it to fall to the ground before dispatching the strike past the goalkeeper. You also have to bear in mind that all this happened in a crowded penalty area. Not only was it impressive it also was nothing less than Burnley deserved.
Left-back - Patrick van Aanholt (Crystal Palace)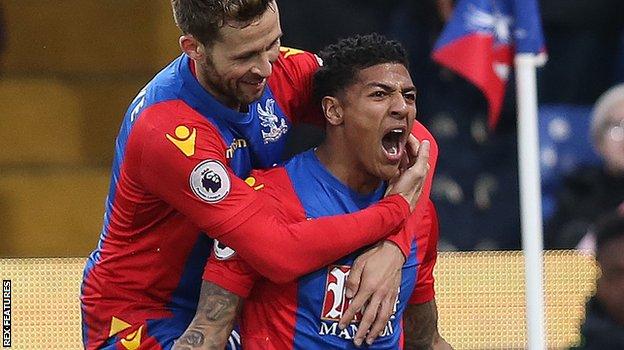 I have seen Patrick van Aanholt in this mood before - looking mean and searching for goals. A useful attribute to have, particularly if you are a full-back, which is precisely why Sam Allardyce brought his former player at Sunderland to Selhurst Park.
A poor signing can cripple a manager while the right one can save him. Premier League survival is by no means guaranteed for the Eagles and that is why it is imperative to have a player like Van Aanholt in your team who knows exactly what is required.
Midfield - N'Golo Kante (Chelsea)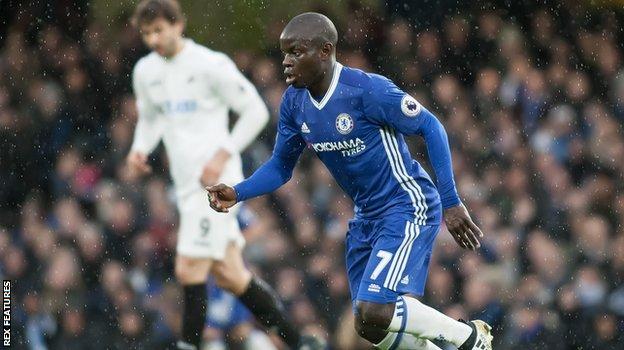 At the end of the fixture at Stamford Bridge I engaged in a debate over just how good N'Golo Kante actually was. One journalist suggested he was the best player he had ever seen without the ball at his feet, and another thought he was better than the only other Chelsea player with a similar reputation, Claude Makelele - now part of the Swansea backroom staff and arguably the best holding midfield player of his generation.
I thought Kante's performance against the Swans was as effective as any he has produced this season. The 'silent force' continues to carry Chelsea through sticky periods when they carelessly lose the ball, only for the Frenchman to win it back with the minimum of fuss. To hear Swans manager Paul Clement say that Kante had a fantastic performance said it all really.
Midfield - Cesc Fabregas (Chelsea)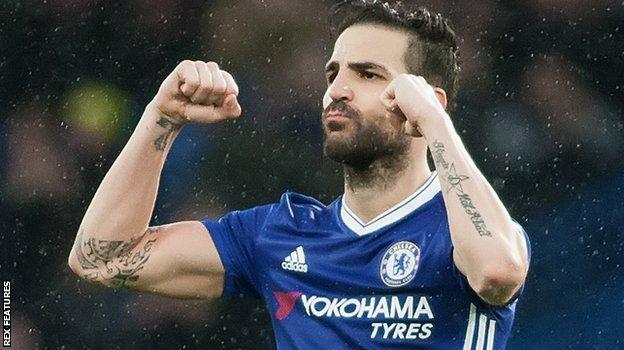 This was by no means a stellar performance from Chelsea but it was by Cesc Fabregas. Manager Antonio Conte left out Nemanja Matic against a most impressive Swansea for the one player in his squad who is a world-class passer of the ball. Fabregas may not have the running power of Matic but he can cut a defence to ribbons with a swing of his left foot.
The Spaniard could have had a hat-trick in this game but for some poor finishing, but it didn't matter in the end. Chelsea were comfortable winners after a couple of scary moments by Swansea - notably a stonewall penalty which referee Neil Swarbrick chose to ignore at a crucial time in the match. The Blues are now 10 points clear at the top of the table having played some unconvincing football recently but what they have shown is the sort of maturity and consistency some of their competitors have lacked.
Midfield - Idrissa Gueye (Everton)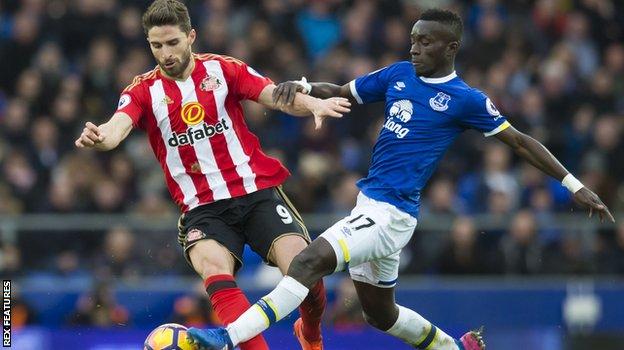 This player is the nearest thing I've seen to N'Golo Kante. His ability to cover the ground is also remarkable. There are those of us who found running, unless it was absolutely necessary, tedious, but players like Gueye and Kante see it as their life support. They are the coach's dream, particularly if the coach has little to offer the team other than effort.
Not so with Antonio Conte and especially Ronald Koeman. The Dutch insist that players in their country must know what to do with the ball when it arrives at their feet, and Gueye certainly does. What I like about Gueye is that when he wins the ball he almost without fail completes the pass, which makes winning the ball in the first place much more fun.
Against Sunderland he scored his first goal for the Toffees with a delicious strike into the roof of the net. The problem with these defensive midfield players is that when they score one, rather like tasting Champagne for the first time, they tend to want another.
Forward - Harry Kane (Tottenham)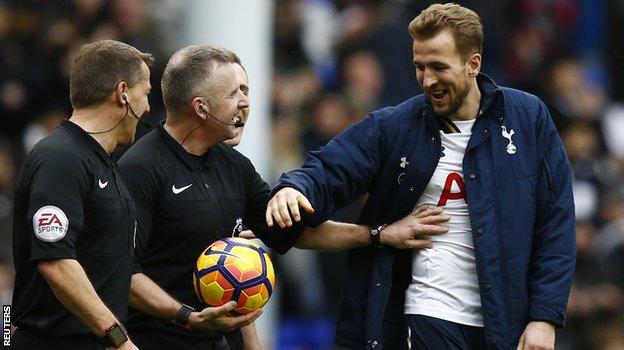 To see Spurs go three goals up after just 37 minutes at White Hart Lane, even against a non-existent Stoke City, was impressive, particularly after the no-show against Gent in the Europa League a few days earlier.
In a first half where everything Harry Kane touched seemed to turn to gold, the striker's best effort, struck with the inside of this right foot, screamed past the upright. Had he scored, it would have been my goal of the season.
Equally, Stoke's first-half performance was so distressing I was beginning to wonder if their players had spent the entire week trawling the streets of the city campaigning in the Stoke central by-election. I can't recall seeing a more abject performance from a Premier League side. Woeful.
Forward - Zlatan Ibrahimovic (Manchester United)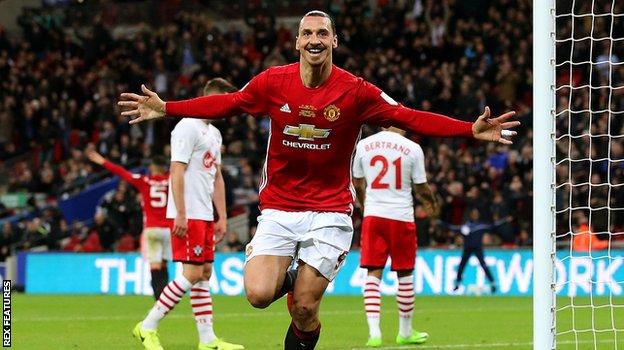 Ninety-two minutes into the game and he was still putting his body on the line for the team. His goals were brilliantly taken and he seems made for the big occasion. Zlatan Ibrahimovic was the difference in the EFL Cup final between Manchester United and Southampton who, by the way, were also fantastic.
However, what this victory signified was that a manager is nothing without his star players and a benevolent chairman, a fact that will not be lost on Claudio Ranieri this week. Manchester United have seriously benefited from bringing Ibrahimovic to Old Trafford. He has almost single-handedly injected a presence into the United set-up that has not been seen since the departure of Roy Keane.
Nevertheless the reality is that Ibrahimovic is a football 'senior citizen' and cannot continue to punish himself like this indefinitely. At some stage Paul Pogba (who went AWOL again against the Saints) has to step up to the plate and start showing some true leadership, especially in the big games. Mourinho has no choice but to keep Ibrahimovic onside, at least until Pogba grows up.
Forward - Manolo Gabbiadini (Southampton)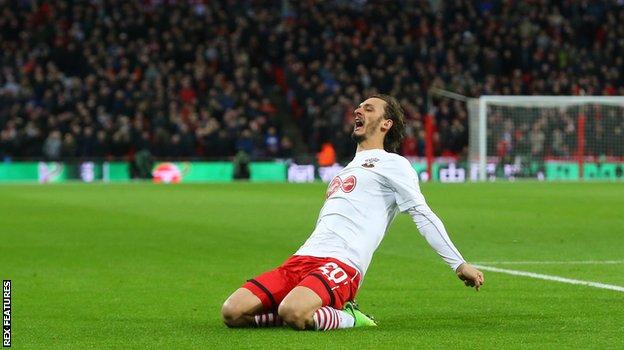 It is not very often a footballer scores two goals in a cup final, one of which is worthy of winning the trophy, but leaves the arena with absolutely nothing. Well, that is the tale of Manolo Gabbiadini, who for me was sensational against Manchester United in the EFL Cup final.
In fact, Gabbiadini's evening started very badly. What should have been a perfectly good goal was disallowed by an overzealous referee's assistant. Nevertheless, everything about Gabbiadini's play was perfect. His touch and hold-up play were wonderful.
Yet it was his second goal that put Southampton level that did it for me. To turn on a sixpence, provide Chris Smalling no opportunity to intervene, and leave a world-class goalkeeper like David de Gea rooted to the spot to watch the ball roll agonisingly past was pure genius.
I have sung the praises of Gabbiadini in my team of the week before but this performance was really of the highest quality. And a tragedy in some ways that he left with nothing to show for his exploits.