Garth Crooks' team of the week: Kane, Vardy, Silva, Redmond, Boruc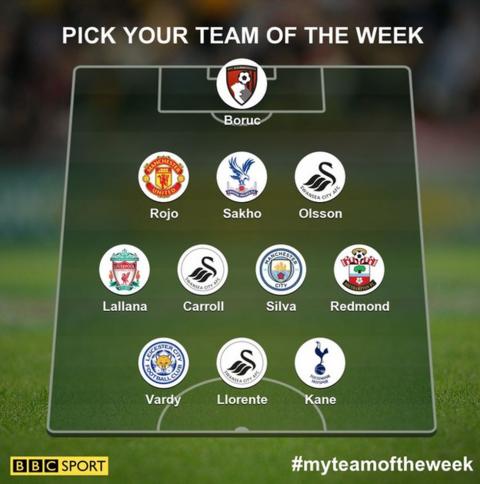 With Chelsea playing West Ham on Monday, second-placed Tottenham took the opportunity to close the gap on the leaders to seven points with a 3-2 win over Everton.
Manchester City recorded a relatively comfortable 2-0 win over struggling Sunderland to move up to third. Liverpool are fourth after defeating Champions League rivals Arsenal 3-1, and Manchester United slipped up in the chase for a top-four spot as they only managed a 1-1 draw at home to 10-man Bournemouth.
At the other end, Crystal Palace moved out of the bottom three with a 2-0 win at in-form West Brom, but there were defeats for fellow relegation-threatened sides Hull and Middlesbrough.
Pick your Team of the Week
Pick your XI from our list and share with your friends.
Do you agree with my team of the week or would you go for a different team? Why not pick your very own team of the week from the shortlist selected by BBC Sport journalists and share it with your friends?
Goalkeeper - Artur Boruc (Bournemouth)
What a difference a week makes. Seven days ago I was castigating Artur Boruc for misjudging a cross which resulted in West Brom winning the match. This week he is the hero in a 10-man performance in the 1-1 draw against Manchester United at Old Trafford.
Apart from making some superb point-blank saves in this explosive encounter, his penalty stop from Zlatan Ibrahimovic was quite remarkable under the circumstances. The elbow from Ibrahimovic on Tyrone Mings was a sending-off offence if ever I saw one - as was the stamp by Mings on Ibrahimovic - but I don't think it was deliberate. To what extent either incident was intentional only the players can really confirm. The fact that both men have played down the incident has restored my faith in players who mete out punishment in the heat of battle, but then don't whinge when retribution is delivered.
Mings knows precisely why Ibrahimovic would have reacted the way he did. In fact, he would have been disappointed if he hadn't - top players take care of business. Bournemouth, like Boruc, were magnificent on the day and their players (Mings included) conducted themselves with dignity and good grace after the game. What the Football Association will make of the unseemly affair is a matter for them.
Defender - Martin Olsson (Swansea City)
It was a touch of magic from Swansea's Gylfi Sigurdsson that provided the opening for Martin Olsson to score Swansea's second in the 3-2 win over Burnley. Once the full-back got in the position to finish the move, he did it with great confidence.
It's the second time this season that Olsson has made my team of the week, and both selections have come under Swansea's recent revival. It never ceases to amaze me how some players, when they move from one club to another, see their game transform into something quite significant.
Olsson was having little effect with Norwich City in the Championship, but in the Premier League his quality appears to be better suited to the game and certainly appreciated by the players around him. Norwich might have lost their way, but Olsson is looking like a player again.
Defender - Marcos Rojo (Manchester United)
It wasn't an easy finish, but the defender steered the ball into the back of the net like a striker against Bournemouth. Marcos Rojo is experiencing a very good run in the United side these days and looking very comfortable at centre-back.
Much of this game was spent with the home side playing against 10 men and trying to work out how to do it. Bournemouth, on the other hand, looked more comfortable with 10 men than United did with 11. However, this was a game when United will do well to remember that points, like goals, don't come easy. And while this was a game they should have won, given their chances in the first half, they are some way off emulating the Alex Ferguson years.
They might have won a trophy or two, as Jose Mourinho insists on counting the Community Shield as well as the League Cup. But that tells you all you need to know about his state of mind. The Community Shield?
Defender - Mamadou Sakho (Crystal Palace)
Palace manager Sam Allardyce is starting to weave his magic. I thought he had come back to work too soon after his England debacle, but he told us, in no uncertain terms on BBC's Football Focus recently, what he thought of that idea.
Since his return to league football, Allardyce has made two magnificent signings - both of which have initiated Palace's revival. Full-back Patrick van Aanholt and, most significantly, central defender Mamadou Sakho, seem to have done the trick. Less than a year ago, Sakho had acquired cult status at Anfield only to be unceremoniously shown the door by Liverpool boss Jurgen Klopp after a disagreement between the two men. Bust-ups between highly strung characters were commonplace in my day, so why it should signal the departure of this totally committed defender, I don't understand.
Nevertheless, what has become surplus to requirements for Liverpool has been warmly greeted (on loan) by Crystal Palace. The defender was magnificent against West Brom, as was Andros Townsend and Wilfried Zaha. Both wide men are unlucky not to be in my team of the week. However, it is Sakho who continues to put his body on the line for Palace in the same way he did for Liverpool. How the Reds can dispense with the services of Sakho with the defence they have is worth a debate all by itself.
Midfield - Nathan Redmond (Southampton)
How this lad has grown since his arrival from Norwich City. I stated earlier in this column that the Canaries failed to get the best out of Martin Olsson and the same is certainly true of Nathan Redmond.
Identifying players is one thing, but what's the point if you can't make them into top-class performers? It was former Norwich boss Chris Hughton who took Redmond from Birmingham to Carrow Road and gently nurtured his career through the stages. However, since Redmond's arrival at Southampton, an injection of belief from another manager has catapulted this talent into a top player. The question for Nathan is can he make the transition from U21 international to the senior squad?
National team manager Gareth Southgate will know all about Redmond from his time with 'Young England', but I believe the time is right to let the player loose into the full international scene. It's the only route left for Redmond to progress.
Midfield - David Silva (Manchester City)
This was a much better performance from Manchester City than I have seen for some time. However, we have to put it into perspective. Manchester City are in the last 16 of the Champions League and currently second in the Premier League table and playing a Sunderland side who are bottom of the league with 19 points.
So let's be clear here shall we - City should be beating 'the Sunderlands' of this world. That said, they controlled the game for long periods and David Silva practically ran the show from start to finish. There is no doubt that when Silva and Yaya Toure are playing well at the same time City look impressive. This victory over Sunderland keeps City in touch with the leaders, and manager Pep Guardiola is familiar with what it takes to win one of the most competitive leagues in the world.
This season has been a steep learning curve for Guardiola - Silva and Toure are now getting time on the pitch together. Guardiola needs to prepare now for their exit and have players in line to replace them if he's serious about winning trophies in this country. Both will take some replacing.
Midfield - Tom Carroll (Swansea)
Swansea's win over Burnley had everything. Wonderful quality, notably from Leroy Fer and Gylfi Sigurdsson for Swansea - but the star of the show was Tom Carroll. Thank goodness that Carroll produced the moment that presented referee Anthony Taylor with a 'get-out clause'. The referee made a horrendous decision when he awarded a penalty kick to Burnley for handball when it should have been a free-kick to Swansea. What a miscarriage of justice that would have been had Burnley come away with all three points.
What I don't understand is why referee Taylor appeared to me to have guessed. The last thing a referee should do is try to calculate what has taken place. An official cannot give what he does not see and he certainly doesn't guess either. Fortunately, Carroll's persistence, enthusiasm and moment of magic - his cross for the winner - provided Swansea with the only acceptable result and it saved Taylor from any further embarrassment.
Midfield - Adam Lallana (Liverpool)
It's taken some time for Adam Lallana to become the star performer for Liverpool he was at Southampton. Perhaps he was a little intimidated by ex-midfielder Steven Gerrard's presence when he first arrived at Liverpool? Or perhaps it took more time to come to terms with Philippe Coutinho's dominance in the team?
Well, whatever it was, he seems to have shed his concerns and is playing football with a confidence I haven't seen since his days at St Mary's. Against Arsenal, he helped make Sadio Mane's goal and was superb in prising the opening that led to Georginio Wijnaldum's slick finish.
But what was Arsenal boss Arsene Wenger thinking leaving Alexis Sanchez out of his starting line-up, and leave attackers Alex Oxlade-Chamberlain, Alex Iwobi and Danny Welbeck unaccompanied to face Liverpool at Anfield? These youngsters might have the legs but where was the knowhow? Liverpool have struggled recently, but if a team needed a lift then leaving Sanchez out of the starting 11 was certainly it. It took 49 minutes for the Gunners to have a worthy effort on goal and it wasn't until Sanchez came on to the pitch that the visitors looked anything like dangerous. I'm sad to say this, but Arsene is starting to look tired.
The game in the Premier League is as relentless as it is demanding, and after 20 years why wouldn't he put his feet up? Better that than have his feet taken from under him by an exasperated Arsenal board.
Forward - Harry Kane (Tottenham)
Tottenham's win over Everton was not a classic, although the 3-2 scoreline might suggest otherwise. The Toffees gifted Spurs two of their goals and striker Harry Kane accepted both gifts with enormous gratitude.
Everton's defence seemed to retreat the moment Kane picked up the ball - as if they were almost in awe of the England striker - before he launched it from 25 yards to beat Joel Robles in goal. It seemed to take Robles an age to move his feet to the right in order to try to stop the shot from entering the net. If the first goal was partly Robles' fault, the second goal was completely the fault of the Everton keeper. The Spaniard, having seen all the options, decided to give team-mate Morgan Schneiderlin no options at all with a pass out from goal which left Kane the chance to take advantage of the confusion.
Spurs are looking good at the moment, but a top-four spot is by no means guaranteed. There are six teams competing for four places and one spot has already gone to Chelsea, in my opinion. I expect Manchester City to win a Champions League place which leaves Tottenham, Arsenal, Liverpool and Manchester United looking to join the elite. Spurs are developing nicely, but Kane needs to continue with this form if they intend to compete with the best Europe have to offer next season. Anything short of a top-four place would be disastrous for the team and would badly hinder their progress.
Forward - Fernando Llorente (Swansea)
He could have scored a hat-trick against Burnley. Had he done so the only person that would have complained would have been Clarets boss Sean Dyche. The feature of this game was the quality of the crosses.
A striker is nothing if chances are not created, and I must say that the quality of the crossing was sensational. The cross, which resulted in Fernando Llorente's first goal and produced by Leroy Fer, was simply world class - only matched by Llorente's headed goal. The Swans have a knack of finding goalscorers, who not only capture the imagination of their fans but give them real hope.
Ex-players like Wilfried Bony, Bafetimbi Gomis, Michu and Andre Ayew have all played their part in keeping the Swans afloat over the years,. Llorente, however, is an old-style centre-forward with a touch of class who, with the right service into the box, suddenly becomes a defender's nightmare.
Forward - Jamie Vardy (Leicester)
The lad is back in business. I haven't seen Jamie Vardy look so menacing for months, or midfield team-mate Riyad Mahrez for that matter.
The hysterical nonsense that accompanied manager Claudio Ranieri's departure from certain pundits, who frankly should have known better, was alarming to say the least. Leicester's triumph's last season was a monumental 'team effort' and not Ranieri's victory. Nothing destabilises a dressing room quicker than when players detect that the manager has suddenly become 'big time' and starts to 'tinker' with the magical ingredients that created the success in the first place. Managers are nothing without players - a feature that will not be lost on Ranieri as he sits and watches the team produce the goods again, post his departure.
Vardy was devastating against Liverpool in midweek and the team was just as impressive in the 3-1 win against Hull. With Ranieri gone, they now look certain to stay in the Premier League and they can now also afford to gamble in the Champions League. That's because Leicester have finally got their priorities right. The Premier League is what it's all about, and if it took players like Vardy and others to make that case to the club board, then good on them.