Guernsey FC: Tony Vance 'looking over shoulders' at drop zone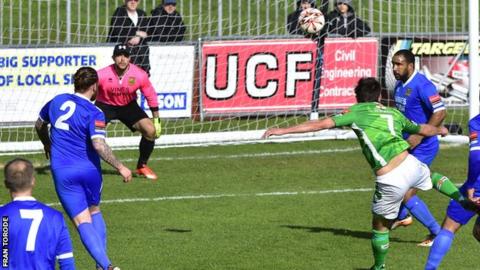 Guernsey FC manager Tony Vance says they are "looking over their shoulders" after their 1-1 draw with relegation rivals Three Bridges.
Dave Rihoy put the Green Lions ahead but an equaliser means Guernsey are eight points clear of the bottom three.
"We're still fighting - we're outside the relegation zone and as long as we stay there I'll be happy," said Vance.
"We're playing well out of our comfort zone - we're being challenged and at the moment we're standing up, just."
Free entry was given to the match at Footes Lane thanks to a sponsor, with more than 1,200 fans at the Isthmian League Division One South game.
"We're never going to be happy until we're safe and to be fair we're going to be looking over their shoulders," Vance told BBC Radio Guernsey.
"Technically we're better than most teams to be honest, but we don't breed them very big in Guernsey and that's the way it is."