Bayern could face fine for paper roll protest at Arsenal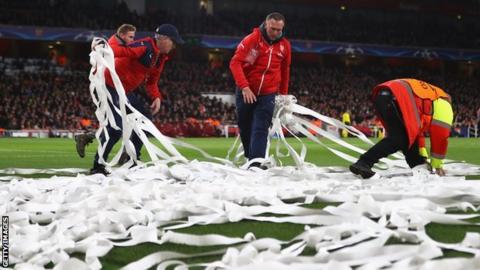 Bayern Munich could face a fine after their supporters delayed Tuesday's Champions League tie at Arsenal by throwing rolls of paper onto the pitch in protest over ticket prices.
The game was stopped shortly after kick-off as stewards cleared the playing surface at Emirates Stadium.
Under Uefa rules, clubs are liable for the conduct of their fans and may be subject to disciplinary measures for acts including the throwing of objects.
Bayern beat Arsenal 10-2 on aggregate.
A group of visiting fans also held up a banner which read "without fans football is not worth a penny", having made a similar protest in a Champions League group match at Arsenal last season.